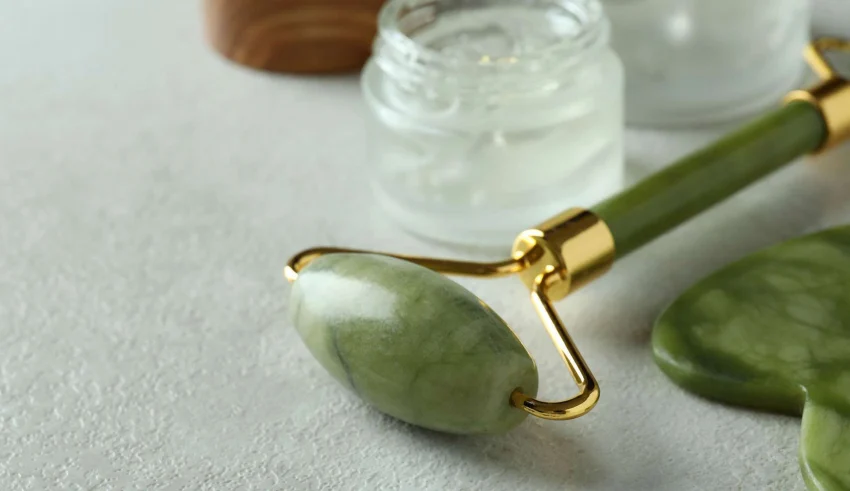 More than one hundred years ago, dermatologists and skin care specialists realized the importance of microneedling and started looking for a device through which this effective technique could be used on skin and hair. 
If we go back in history, we would find that the first derma roller model was created in 1905! But of course, it wasn't designed for home use and wasn't as modern as today's derma rollers. Dermarolling used to rely on dental burs that reduce scars and blemishes and even out skin tone. 
We have definitely come a long way. The derma roller has now become an essential step of the routine of many women around the world. If you haven't tried it yet, keep reading to learn more about derma rollers.
What is a derma roller? 
A derma roller is a manual device with very small and fine needles ranging from 0.5 to 2 mm in length. There are many types of derma rollers to choose from, but make sure you go for rust proof needles so that you won't have to replace them shortly after use. It's also important to choose one with a handle that is easy to hold to ensure better control while using it.
Benefits of the derma roller for skin and hair
To learn more about the benefits of using a derma roller for both the skin and hair, we reached out to the dermatologist and cosmetologist Dr. Marwa Mahmoud who reveals 10 main benefits of a derma roller: 
1- It stimulates blood flow and collagen production, which helps reduce hair loss and strengthen hair follicles.
2- It also helps hair absorb the medical substances used in hair treatments, such as stem cells.
3- For the skin, you can rely on derma rollers to stimulate collagen production, which is the primary protein responsible for skin elasticity and firmness. This will restore youth and radiance to your skin. It will also reduce the appearance of signs of aging and expression lines.
4- If you are looking for a way to tighten the skin without undergoing any cosmetic surgery, derma rolling is a simple and easy solution to get rid of sagging skin. 
5- Derma rollers are effective in treating acne scars or pockmarks as they promote cell regeneration.
6- They are also beneficial for treating scars and hyperpigmentation, which is important if you're looking for an even skin tone. 
7- They help increase the absorption of skin care products such as serums rich in vitamin C and hyaluronic acid. This will leave your skin smooth, healthy and evened out. 
8- If you have oily skin, derma rollers help reduce the appearance of large pores that may cause discomfort and give you a hard time applying makeup. 
9- You can also rely on derma rollers to reduce dark circles under your eyes and treat the existing ones by stimulating blood flow in this area. 
10- As for the body, derma rollers help reduce stretch marks caused by pregnancy or weight gain. They also treat any hyperpigmentation or acne scars.


How to use a derma roller? 
The first essential step to using a derma roller is to deeply cleanse the skin and get rid of oil and sebum as this is necessary for the treatment to take its course. After cleansing your skin, you might need to apply a topical anesthetic cream, depending on the needle length. If it is less than 0.5 mm, you won't feel any pain, so there is no need for any creams. 
However, if the needle length is between 0.5 and 0.75 mm, you might feel some pain, and it is preferable to apply an anesthetic cream. And if the needle length exceeds 0.75 mm, it becomes necessary to apply an anesthetic cream. It's also very important to wipe your face with an antiseptic or purifying gel before you use the derma roller. Then, start rolling the dermaroller over your skin vertically. For example, you can start at the top of the cheek and reach the jaw. After you're done derma rolling vertically, you can switch to a horizontal direction. 
If blood comes out, the amount should be as small as a pinpoint, otherwise you should stop the procedure immediately. We recommend you limit your sessions to once a week for a maximum of two minutes per session.
Does it have any side effects?
Dr. Marwa Mahmoud explains that derma rollers can cause viral or bacterial infections if both the skin and dermarollers are not cleaned and sterilized before and after use. She warns against using dermarollers in case of skin breakouts.
She also points out that they can cause wounds if not used the right way, or if the needle length is chosen incorrectly. After use, it is necessary to apply sunscreen to prevent hyperpigmentation.  
As you can see, using a derma roller will make your skin care routine much easier as it restores skin radiance. However, you should be very cautious while going for this procedure.  
For optimal protection against hyperpigmentation, we recommend you use Very High Protection Fluid SPF50+ from Eau Thermal Avène, a leading skin care brand. It provides broad spectrum UVB and UVA protection. It is easily absorbed by the skin and has a very smooth texture.