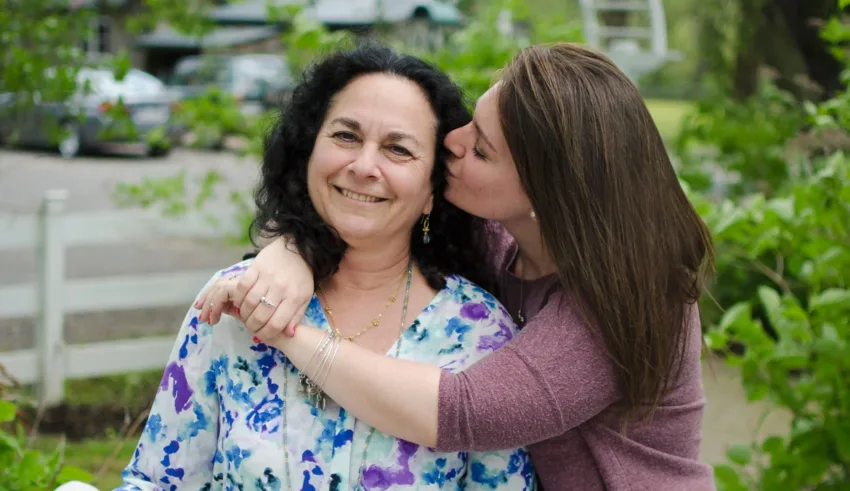 We know: Moms are notoriously hard to shop for, especially when they claim to already have everything. So we've compiled a variety of unique Mother's Day gift ideas so you don't have to fall back on the classics.
Spoil your mom this Mother's Day with surprises and love. After all, she's the one who gave birth to you. Here are 20 unique Mother's Day gifts for all the mother figures in your life. Whether it's your mom, sister, or grandmother, these gifts will make them feel the love.
Check out our perfect Mother's Day gifts – moms deserve the best!
1- Personalized book
Your mom deserves an entire book in which you tell all the ways she's shown you love over the years. Take a night to fill a book with all the memories, inside jokes, and features you both share.
2- Neck and back massager with heat
Who needs a massage more than a mom? The neck and back massager will give her a fantastic feeling on her neck and back. This mother's day gift idea will let her relax every day.
3- Cheese board and knife set
Charcuterie is all the rage right now, and cheese lovers will make sure this trend lasts as long as possible. Pair this gift with cheese from the grocery store's luxury aisle and her favorite wine.
4- Facial Massage Roller
The skin-care-loving mom will have a lot of fun using this famous tool on her face every day. It will also serve as a decoration on her nightstand.
5- A cookbook
Is your mom always experimenting in the kitchen? Give her a cookbook from a star chef.
6- Handwriting bracelet
Turn any handwritten phrase – "Best Mom Ever" for example- into a heartfelt bracelet she'll wear daily. Just make sure to choose a metal that matches her everyday jewelry: silver, gold, or rose gold.
7- Personalized Birthstone Necklace
Create a family tree of gemstones that she can proudly show off to anyone who asks. After choosing a silver or gold chain, personalize the necklace with leaves bearing her children's initials and birthstones.
8- A Belt Bag
On the days when she is most busy (school runs, errands, playground visits, to name a few), she needs a bag that can hold all her essentials while leaving her hands free. A belt bag can be worn around her waist or over her shoulder, but either way, it will keep everything within reach when she's on the go.
9- Decorative Wall Art for Mom
Create a wall decoration for your mom's special day with a favorite family photo. Add an inspirational quote from one of her favorite movies, books, or songs. She'll love hanging it in her living room, bedroom, or other special places in the house.
10- Photo Necklace
The best Mother's Day gifts are those with a personal touch. Place a special photo in a necklace for a keepsake that will last a lifetime. She'll love keeping it close to her heart every day, especially on birthdays and holidays.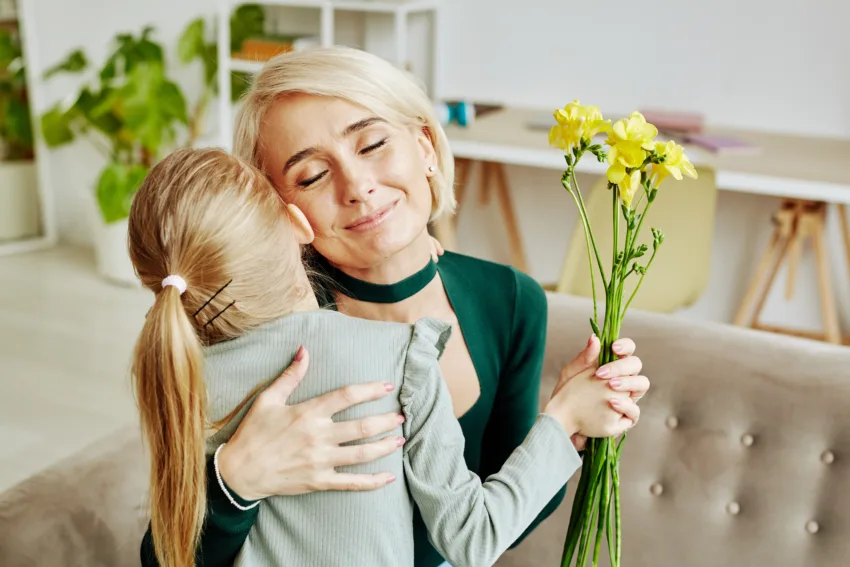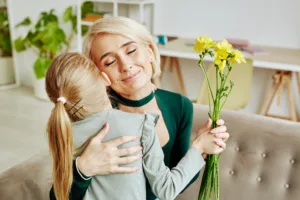 11- Natural Sweets
Be kind and give your mom some natural honey that she will love to use in her cooking and drinks. She will appreciate its fresh taste and health benefits. Add a drawing or letter to the jars for a decorative touch.
12- Emergency Kit
Make up for all the times you've given your mom a headache. Fill a canning jar with Advil, lipstick, and other items like mints and nail polish. She'll be thrilled with this gift idea and will use it all year long!
13- Smartphone Case
Add a personal touch to her phone case so she can take her favorite people and moments with her all day. Create a phone case just for mom with family photos from vacations, daily outings, or parties.
14- Reusable Bags
Go green by giving mom reusable bags, perfect for running errands, going to the farmer's market, or carrying items to work. With a personalized look, you'll remind her of your love even on the busiest of days.
15- Homemade Soap
Make a batch of homemade soap and tie it with a gift wrap that your mom will love. Relieving scents, such as lavender or vanilla, will make your mom appreciate you even more (especially at the end of a long day!).
16- Morning Surprise
Ask your mom to brighten her mornings with a basket of special items, like a newspaper subscription, fresh coffee grounds, and a mug. She'll be able to start her days knowing how much you care.
17- Fresh Herbs
Bring fresh herbs, like rosemary, basil, and mint, into your mom's house. This gift idea won't stop giving as it will grow and produce delicious herbs for her to cook with!
18- Spa Box
Give your mom the gift of relaxation you know she deserves: a luxurious box containing a candle, soap, lip balm, bath bomb, and bubble bath.
Just by opening the box, she'll be overwhelmed by a wave of organic scents! What a great way to end her day for a hard-working mom!
19- Flower Delivery
Flowers are a heartfelt gift for any occasion. Fresh and professional bouquets are not only a welcome surprise, but a gift mom will love! Remind your mom that she is more precious than the most beautiful and rare flower.
20- Gorgeous Glassware
Buy beautiful glassware and give it to your mom as a Mother's Day gift! These chic glass pieces will make a lovely addition to her dining table and make a great impression on guests.
Mother's Day is a day to remember the importance and significance of your mother in your life. Your mom deserves to be showered with love 24 hours a day, 365 days a year. But when Mother's Day arrives, it's a time to go all out with festive meals, fun family activities, and gifts galore.