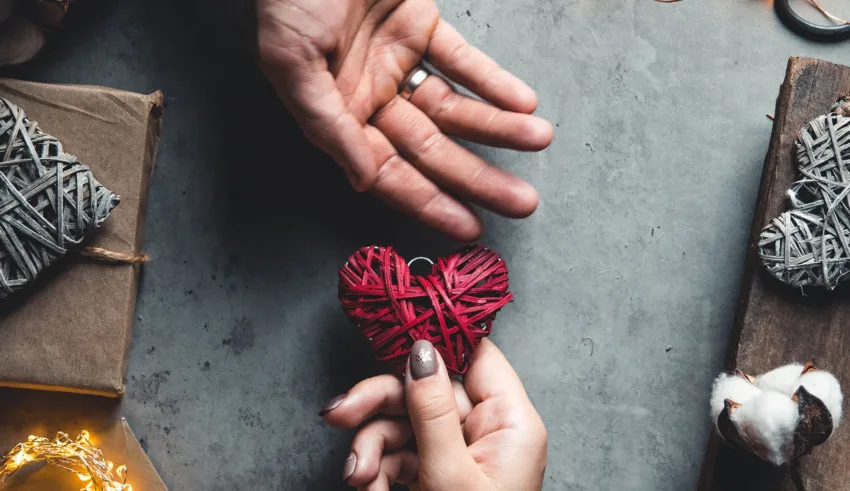 Roses are red, violets are blue, and coming up with fun things to do on Valentine's Day is no easy thing to do. Chocolate and a bouquet of roses are great Valentine's Day gifts, but perhaps the best idea for this special day is to give your loved one some time together. That's why, in the article from The Dermo Lab, we've gone outside the box and put together a list of 15 unconventional and fun Valentine's Day ideas, because this holiday deserves better, and so do you.
1- Play tourist in your own city.
Is there a monument in your city that you have always wanted to visit? Or a museum you've never seen? Become tourists in your own home and finally check one or two items off your bucket list. Take tons of pictures throughout the day. You'll both get out of your comfort zones while exploring new territory.
2- Cook dinner together.
A special meal at home can be much more romantic than a meal in a crowded restaurant. Even if one of you doesn't have the skills of a chef, you can make a memorable dinner that you'll both enjoy. Baking is also a fun way to spend more time with your other half. And you'll have a sweet treat to enjoy together.
Don't forget to create a romantic restaurant atmosphere: light some candles, put on some music, and treat yourself to a special drink or cocktail.
3- Volunteer together.
One of the best ways to spend the day together is to choose a cause you're both passionate about and sign up to volunteer. You'll be doing good for each other and for yourself, as volunteering can bring you closer to each other and to the community.
Showing compassion not only changes lives but also feels amazing for both of you and creates a meaningful shared experience.
4- Go for a hike.
Taking a long hike with your Valentine is not only a fun activity, but it's also an opportunity to talk and bond even more. It is a great way to unplug and relax on V-Day.
You're sure to see some beautiful scenery and have the opportunity to have a deep, meaningful conversation without any interruptions or distractions. And if it's not too cold, don't forget to pack sandwiches, pasta salad, french fries, and chocolate chip cookies so you can stop at a magnificent viewpoint and pack a picnic lunch.
5- Play a game.
When was the last time you played a game, just the two of you? Pick a favorite game from the closet, or try a new couple-themed game.
6- Go dancing
Go on a date for a private dance lesson like tango, ballroom, salsa, or bachata. This shows that you're willing to step out of your comfort zone for each other. Plus, dancing brings your bodies together and can be great sensual foreplay.
7- Recreate your first date
Recreating your first date is a fun and nostalgic way to celebrate your relationship. Start at the restaurant where you first ate months or years ago, then end the night at the bar where you realized you were in love. Make the evening meaningful and your partner will fall in love with you again.
Get dressed up, put on the same cherry red lipstick and green tie, and set a date for 8 pm. This year, your Valentine's Day will be memorable! Recreating a first date is also very popular for marriage proposals. Just saying.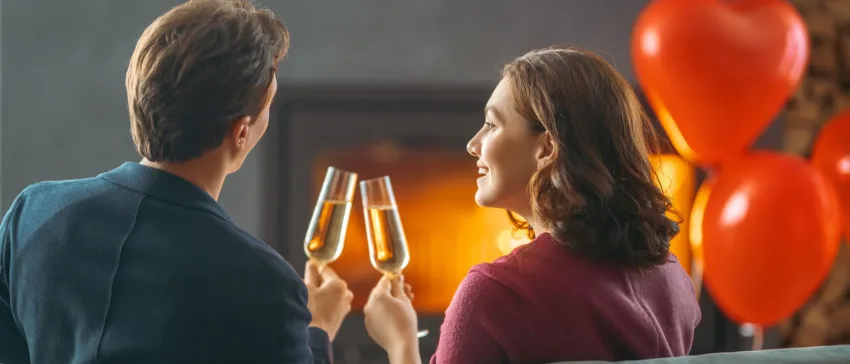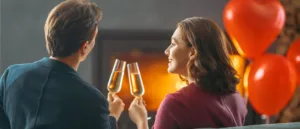 8- Have a picnic
For this romantic Valentine's Day activity, you'll need to dig out your dusty old picnic basket. Create an intimate set-up in your local park with a blanket, basket, drink of choice, and yummy treats. Bring a speaker and enjoy the company of your partner while getting some fresh air.
Don't forget to prepare ahead of time and write down 14 reasons why you adore your partner to celebrate the 14th day of February.
9- Pull out your photos and go back in time.
Pull out your yearbooks, videos, and all those old photos to reminisce. Sharing those special moments in your life with your loved one is a great way to get closer and learn more about each other.
10- Have a karaoke night.
If you're both ready to put your singing skills to the test, get out the lyrics to your favorite songs and pull out some backing tracks – bonus points if you have your own microphones or a karaoke machine. Show the other person what you've got and laugh as you sing your favorite songs.
11- Attend a musical event.
Live music is a great way to spend the evening with your loved one. Attend a musical event and see your date night turn into the perfect memory.
12- Experience an escape room.
If you're up for a challenge and a puzzle to solve, try an escape room. Being locked in a room full of puzzles will surely get your adrenaline pumping and can strengthen your bond.
13- Arrange a spa date.
Instead of stressing out about planning a complicated evening, try something different like an in-home spa day for two. Pamper each other and leave the evening in a completely relaxed state of mind. After all, the couple that masks their faces together stays together.
14- Get lost together.
Pack your bags and hit the road, destination: unknown. Take the highway and follow your senses. If you pass a town with an interesting name, get out and drive through it. Eat when you're hungry, no matter what time it is. Spend a day with your partner simply following your instincts and see where you end up! Being spontaneous allows couples to explore new things and solve problems together.
15- Horseback riding.
Horseback riding is incredibly fun, especially if you've never done it before. And what girl doesn't dream of a prince coming to take her on an adventure on his noble steed? Riding brings a sense of nobility and is a great way to bond.
I hope you now have all you need to do cute and romantic things on Valentine's Day! It's only one day, but it doesn't hurt to do a little extra for your husband, wife, boyfriend, or partner. Make them smile!