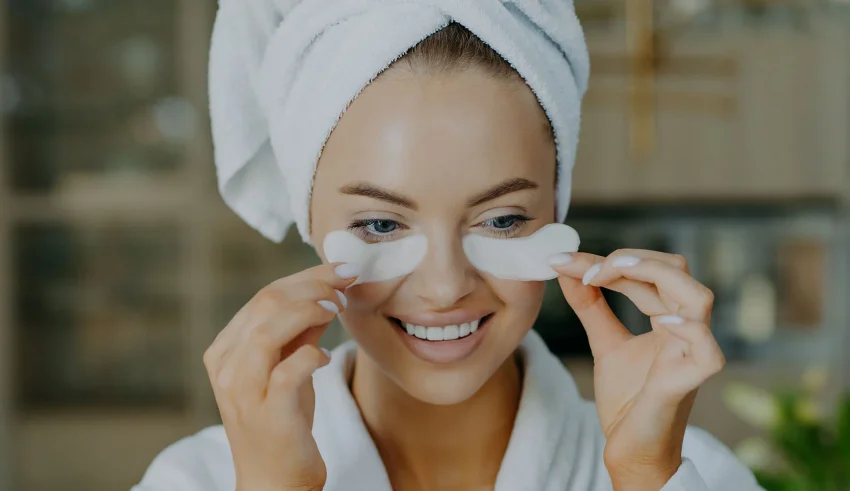 Many people have under-eye wrinkles. The skin under the eyes is particularly susceptible to the aging process because it is thin. In this article from The Dermo Lab, and in collaboration with the dermatologist and cosmetologist Dr. Marwa El Hawary, we will explain how wrinkles form, examine the causes of under-eye wrinkles and highlight the best ways to treat them.
What are the reasons for under-eye wrinkles?
Sun exposure
Sun exposure can cause wrinkles, especially around the eyes. If you tend to be outside during peak sunlight hours without adequate UVA protection, sun damage will eventually accumulate in the form of fine lines and wrinkles. 
Facial expressions
Repetitive facial expressions can also lead to the appearance of fine lines and wrinkles in the eye area. Every time you squint – for example, if you smile – a fine line develops under the skin. As collagen production slows with age, the skin around the eyes eventually loses its ability to pull itself back into place. As a result, wrinkles begin to form.
Smoking 
"Smoker's lips" is a term that describes the fine lines that develop around the mouth of a person who smokes. However, this habit also contributes to the appearance of wrinkles under the eyes. In addition, nicotine obstructs blood flow to the skin.
Rubbing your eyes
If you tend to rub your eyes when you're tired, make a conscious effort to stop. Remember that the skin under your eyes is thin and delicate. If you habitually rub around your eyes, you may overstretch the skin, which will lead to elastin breakdown and wrinkles.
Sleeping positions
Oddly enough, the way you position your body while you sleep can contribute to the appearance of under-eye wrinkles. Sleeping on your stomach might be very convenient for you. But when you do, you'll probably press the side of your face against your pillow. This causes wrinkles to appear under and around your eyes. 
Dehydrated skin
Dehydrated skin is a temporary condition caused by a lack of water. In addition to flaking and tightness, another common symptom of dehydrated skin is the appearance of more pronounced wrinkles, especially around the eyes.
Genetics
Your genes can determine the onset and severity of physical aging. However, it is important to note that in many cases, skin that is regularly exposed to the outside world is more influenced by extrinsic and environmental factors.
So, the question arises, how to remove under eye wrinkles and what is the best anti-wrinkle eye cream? Keep scrolling to learn everything you need to know about under-eye wrinkles.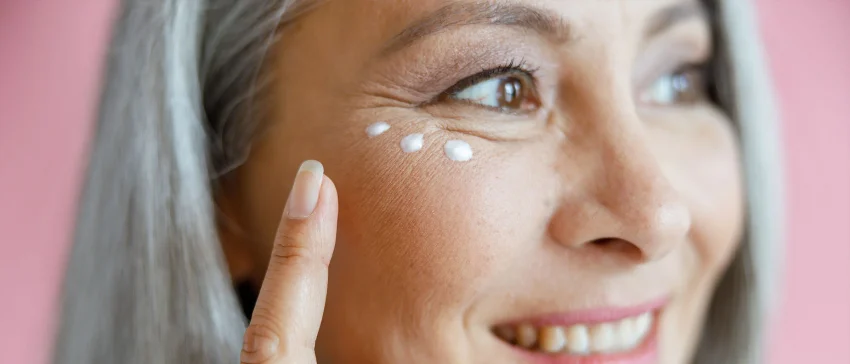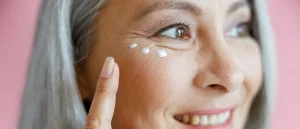 How to treat under-eye wrinkles?
Keep your skin hydrated
Use a suitable moisturizer, especially around the eye area, to avoid the dryness and fine lines associated with dehydrated skin. A separate eye cream can provide extra moisture, but for some people, a well-formulated moisturizer can be just as effective in keeping fine lines and wrinkles at bay. 
Use a moisturizer formulated with retinol, hyaluronic acid, and vitamin C.
Retinol:

Retinol reduces fine lines and wrinkles by stimulating collagen production, which we all need to have plump skin.

Hyaluronic acid:

Dr. Marwa El Hawary notes that hyaluronic acid helps treat under-eye wrinkles by improving skin hydration.

Vitamin C:

Vitamin C promotes collagen production and protects against harmful environmental factors.
Here are 3 moisturizers that correct and prevent the first signs of aging. After use, wrinkles and fine lines become smoother, the eye contour area becomes lighter and more toned, and regains its natural luminosity.
A-Oxitive Eyes Smoothing Eye Contour Cream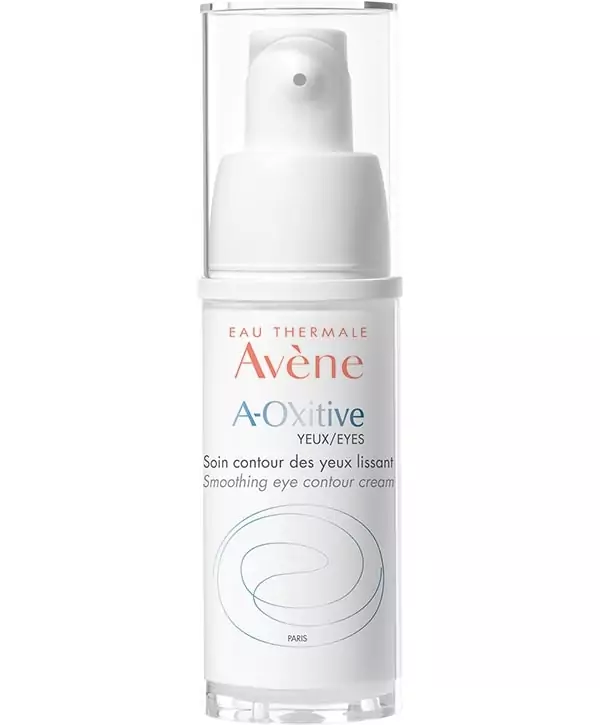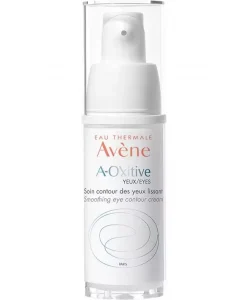 Eau Thermale Avene Soothing Eye Contour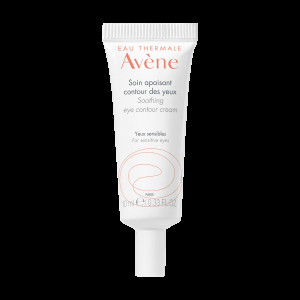 Eau Thermale Avene Hydrance Aqua-Gel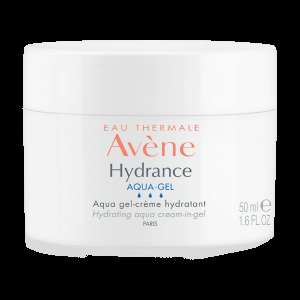 Rest your eyes
If you find yourself looking at a screen for long periods, make sure you take a break for the sake of your eyes. This can be as simple as taking short breaks throughout the day away from the computer, TV, or smartphone. For added comfort, pamper yourself with cooling eye masks that will reduce puffiness and irritation from eye strain.
Adopt good habits
Whether you smoke or constantly rub your eyes, be aware of the effects these habits can have on your skin. Sometimes small changes can yield significant results over time.
Try under eye wrinkle massage
For those with minimal problems, facial exercises prescribed by a qualified skin care professional can help relieve congestion around the eyes. Dr. Marwa El Hawary points out that massaging helps remove wrinkles by stimulating blood circulation and collagen synthesis.
Apply facial masks
Masks are designed to nourish, balance, and restore the skin, which is good to prevent wrinkles. 
Eat a healthy diet
First and foremost, drink plenty of water to keep your body hydrated. Eat antioxidant-rich foods such as berries, nuts, and dark green vegetables, which contribute to healthy skin. Focus on omega-rich foods like salmon, avocado, and nuts to promote a healthy skin barrier and help prevent transepidermal water loss. 
Protect yourself with sunscreen 
Sunscreen is probably the most effective anti-aging skin care product you can wear every day. Don't reserve it for hot summer days on the beach. UV rays are present all year round, even on cloudy days. That's why you should apply sunscreen around your eyes every day, avoiding direct contact with your eyes. Remember to reapply it every two to three hours. On particularly sunny days, complement your efforts with a pair of UV-blocking sunglasses and a wide-brimmed hat. 
We recommend the following sunscreen from Eau Thermale Avène, a brand that cares for sensitive skin, trusted by millions of people around the world.
Eau Thermale Avene Very High Protection Fluid SPF 50+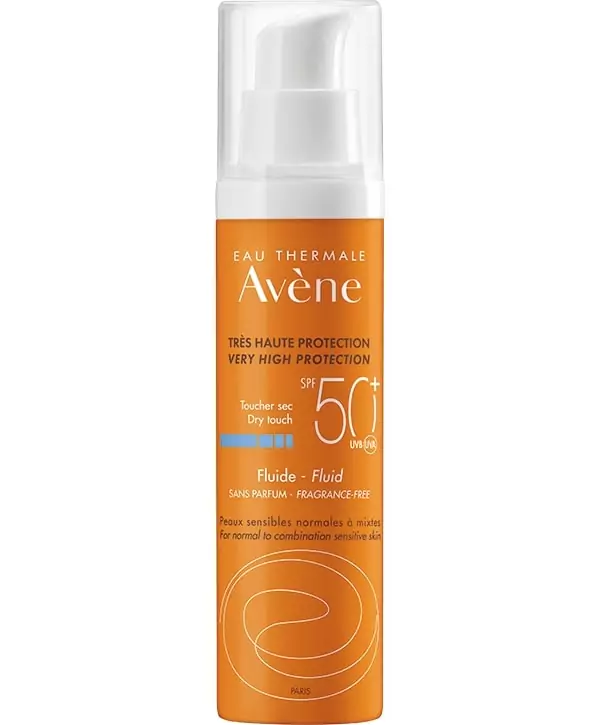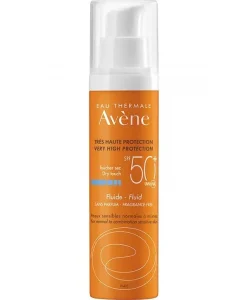 Consider injectables and laser
While injectables are one of the most requested wrinkle treatments, we left them at the bottom of the list to show that they're not the only solution, especially for the under-eye area, which is so sensitive. Botox and fillers are safe when administered by your trusted professional. 
Laser resurfacing treatment is particularly effective in treating aged and damaged skin around and under the eyes. Dr. Marwa El Hawary indicates that the laser for under-eye wrinkles promotes collagen production in the dermis but should not be used alone.
Under-eye wrinkles are manageable
Many people have wrinkles under their eyes. As we age, the skin loses its ability to renew itself, and wrinkles develop.
While you can't completely remove under-eye wrinkles and fine lines after a while, it is possible to reduce them with the right combination of active ingredients. In the meantime, you can manage and prevent the formation of other unwanted wrinkles by paying attention to your daily habits and taking a comprehensive and holistic approach to skin care. With proper treatment and preventive measures, you can age naturally and gracefully.
Last Updated on February 2, 2023