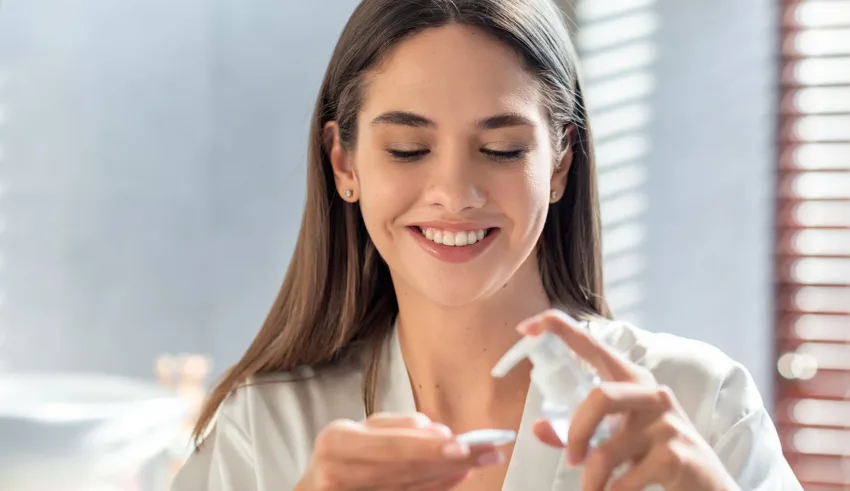 As the first step in your skin care routine, cleansing your face plays a very important role in keeping your skin in balance. A cleanser that is too harsh can strip your skin of its precious natural oils, while one that is too light won't effectively remove excess oil and product residue. Since finding the best facial cleanser can be difficult, we reached out to the dermatologist Dr. Afaf Hegazy to find out what to look for and which cleansers she recommends for each skin type. Read on!
What are the benefits of a cleanser?
According to Dr. Afaf Hegazy, a facial cleanser is a skin care product that helps remove dead skin cells, oil, makeup, and other pollutants from the skin, keeps your pores clear, and prevents skin problems such as acne.
Most environmental impurities and cosmetics that our skin comes in contact with are not water soluble, so washing your skin with water is not enough to remove them. 
It can be difficult to find a gentle daily cleanser because there are so many options. Knowing the differences between them will help you choose the best products for your skin.
Gel cleansers are clear and have a gel-like consistency. Many have deep cleansing and exfoliating properties, which is ideal for oily and acne-prone skin.

Cream cleansers are generally thicker and can be moisturizing. They cleanse the skin without stripping it of its natural oils, which is ideal for dry or sensitive skin.

Foaming cleansers are lightweight solutions that produce a rich lather when dispensed from a pump. Foaming cleansers are comfortable to use and remove excess oil as effectively as gel cleansers, which is ideal for combination skin.
Question: How many times should I use a cleanser? Dr. Afaf Hegazy says how often you wash your face depends on your skin type and goals, but on average, you should wash your face once or twice a day. She adds that even if you don't wear makeup on your skin, you should use a facial cleanser to cleanse your skin.
How can I identify my skin type?
There are five basic skin types: normal, oily, dry, combination, and sensitive. Find out below how to identify and care for yours.
1- Normal skin
You don't have many breakouts. Your skin does not tend to react negatively to new products or changes in weather. You don't feel like you have to constantly moisturize or blot your face all day. Your skin is firm, with minimal wrinkles and fine lines.
2- Oily skin
Your skin is always radiant. Blotting sheets and mattifying powders are probably no strangers to you. You may find that makeup and skin care products don't always stay on as you'd like.
3- Dry skin
Dryness is caused by a lack of oil in the skin. Symptoms include flaking, sensitivity, itching, and cracking. It can be caused by lifestyle and environmental factors or by a chronic condition (if you have eczema or related conditions).
4- Combination skin
If you're having trouble determining what type of skin you have, it's probably combination skin. Is your skin dry in some areas and oily in others? Combination skin is most easily defined by an oily T-zone (the forehead band and nose line) and dry or normal skin on the rest of the face.
5- Sensitive skin
Sensitive skin can be caused by genetic factors, allergies, or environmental factors. The signs of this type of skin are:
Skin that reddens easily

Frequent rashes and bumps

Tingling or burning after using a skin care product

Negative reaction to fragrances

Patches of dry, flaky, irritated skin.
According to Dr. Afaf Hegazy, an easy way to identify your skin type is to wash your face and wait 30 minutes: if your skin is shiny all over, you probably have oily skin; if it's tight or flaky, you probably have dry skin; and if the shine is only in your T-zone, you probably have combination skin.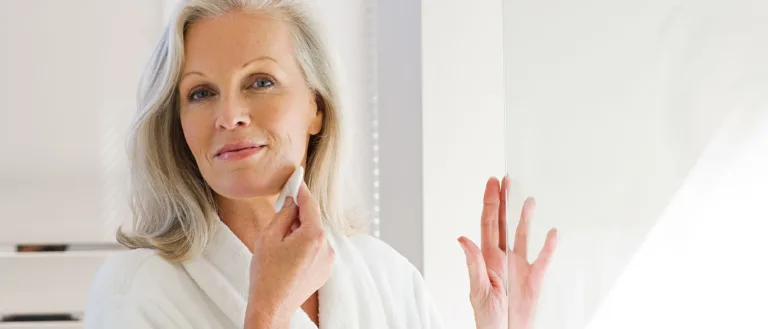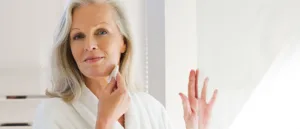 What is the best facial cleanser?
Before choosing your cleanser, you need to know what you are looking for. Therefore, you should consider the following factors:
1- Skin type: Choose a cleanser specifically adapted to your skin type (dry, oily, acne-prone, sensitive, or combination).
2- Texture: Once you have determined your skin type, consider the texture of the cleanser. Dry skin needs creamy cleansers, which are almost like moisturizers, or cleansers with a moisturizing oil base to repair skin damage, while oily and acne-prone skin should opt for foam or gel textures, which will absorb excess oil. Sensitive skin should use creamier products, as they are less aggressive and less irritating to their already fragile skin.
3- Some notable ingredients: The ingredients you need depend on your skin type. For most people, a good rule of thumb is to choose a product that is "oil-free or non-comedogenic", which means it won't clog your pores. If your skin tends to be dry, you should also look for moisturizing ingredients such as ceramides and hyaluronic acid to lock in as much moisture as possible. They can also be helpful for those who use drying ingredients to treat acne. 
But oily, acne-prone skin benefits most from exfoliating ingredients like salicylic acid, glycolic acid, or alpha hydroxy acids. These products remove excess oil, debris, and dirt that can cause acne. 
Sensitive skin should avoid anything harsh and focus on soothing ingredients. Dr. Afaf Hegazy adds that the ideal cleanser should be hypoallergenic, free of fragrance, chemicals, or alcohol, and have a non-foaming formula. It is also important to avoid antibacterial soaps and cleansers.
Whether you have dry skin, sensitive skin, or skin that constantly struggles with breakouts, a facial cleanser can make a huge difference. Find below the best facial cleansers for every skin type.
For oily and acne-prone skin:
Eau Thermale Avène Cleanance Cleansing Gel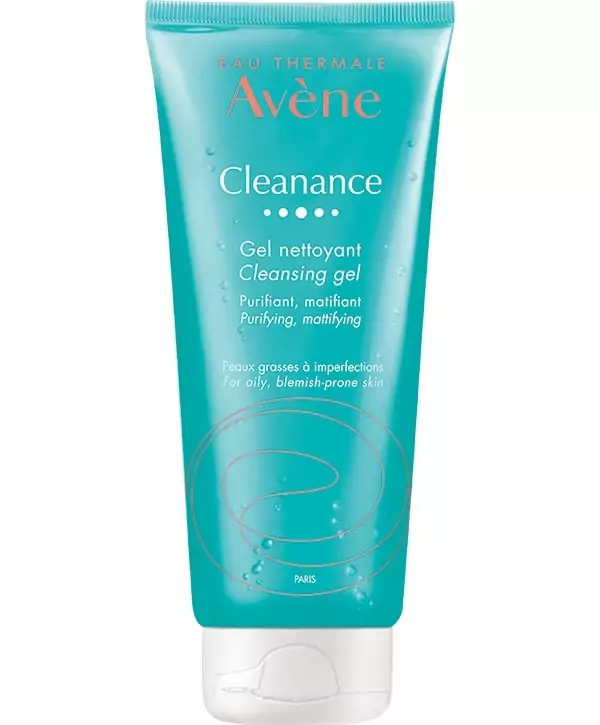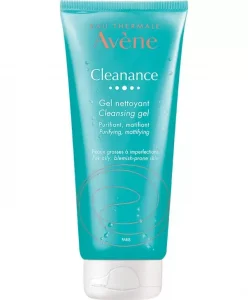 Ducray Keracnyl Foaming Gel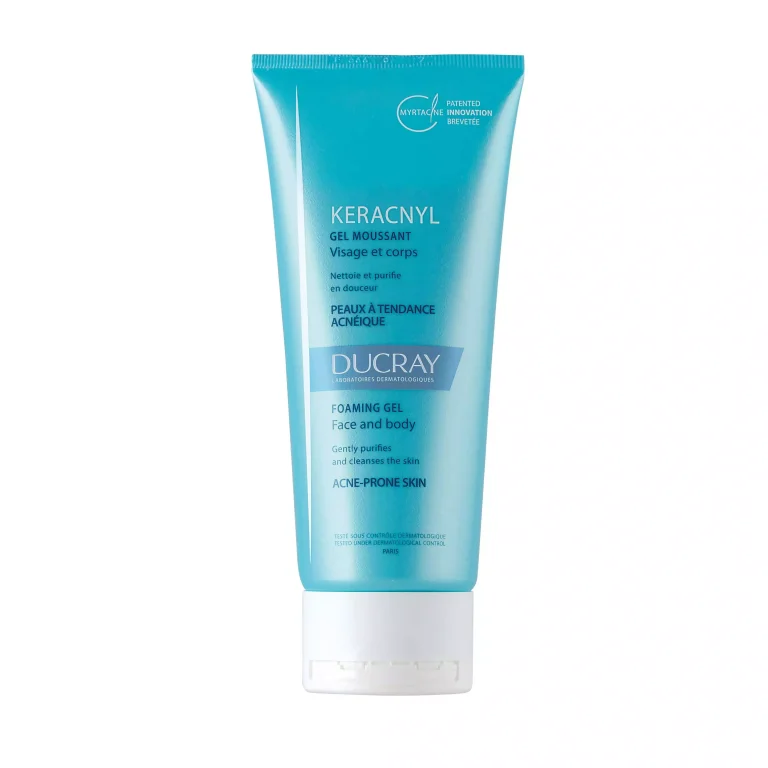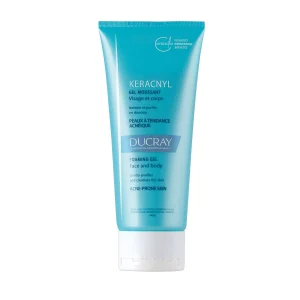 A-Derma Phys-Ac Purifying Foaming Gel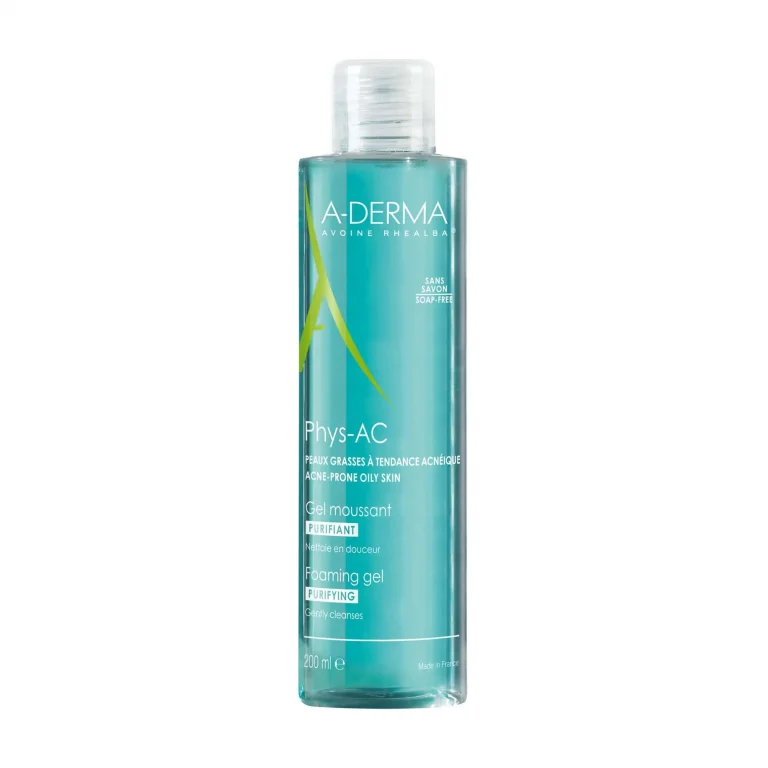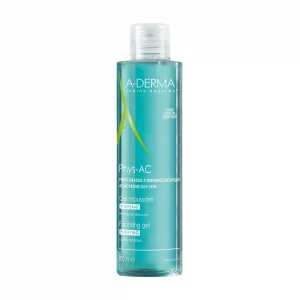 For dry skin:
Eau Thermale Avène TriXéra Nutrition Nutri-Fluid Cleansing Gel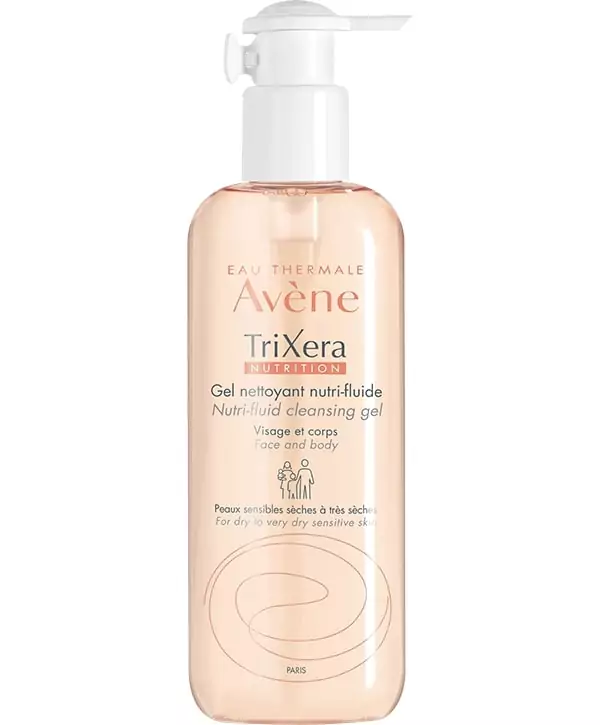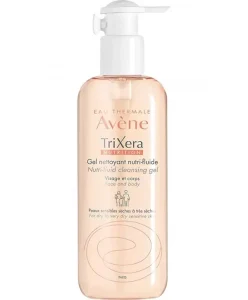 Ducray Ictyane Cleansing Shower Cream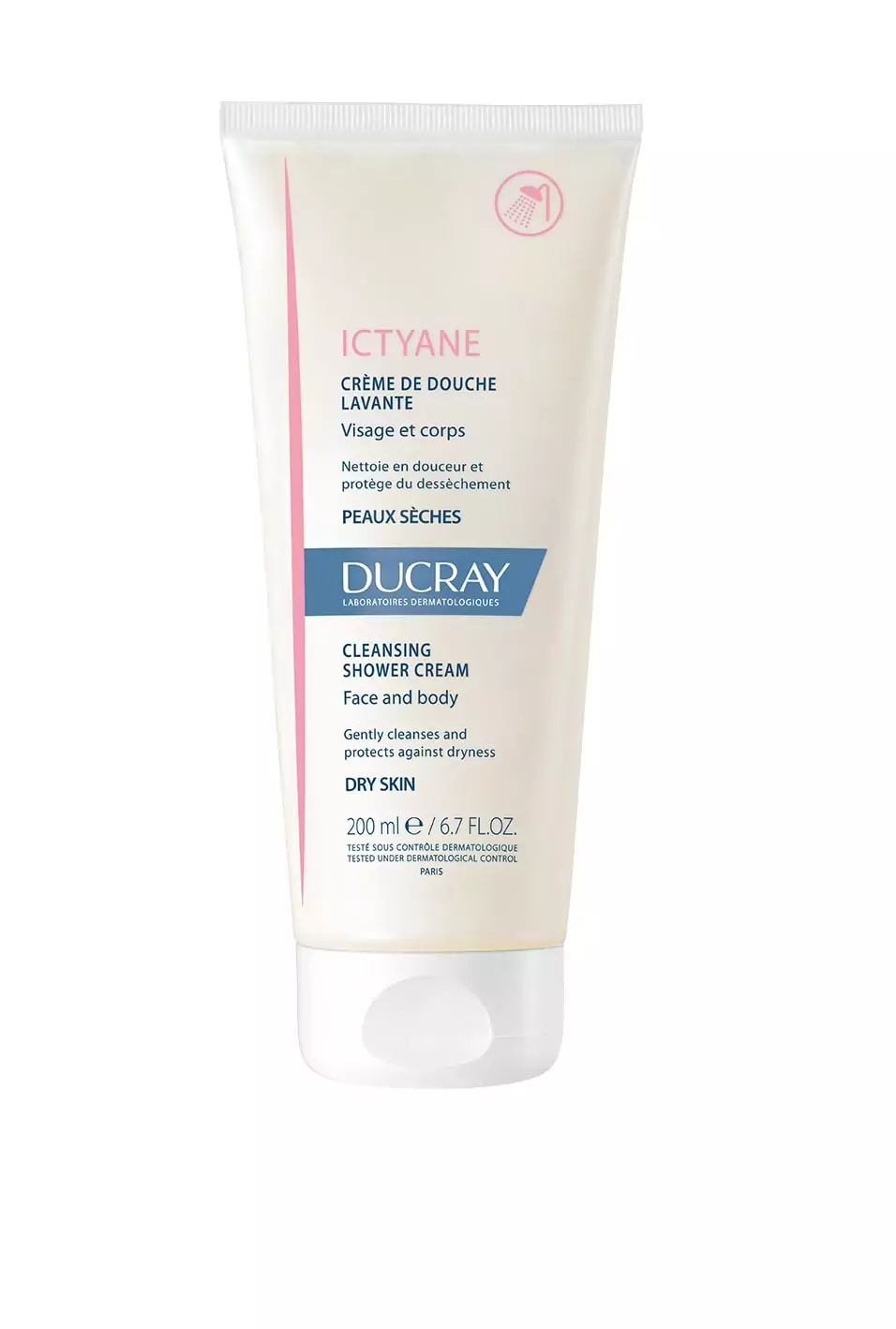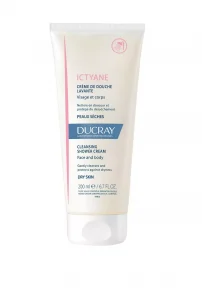 For normal skin:
Eau Thermale Avène Micellar Lotion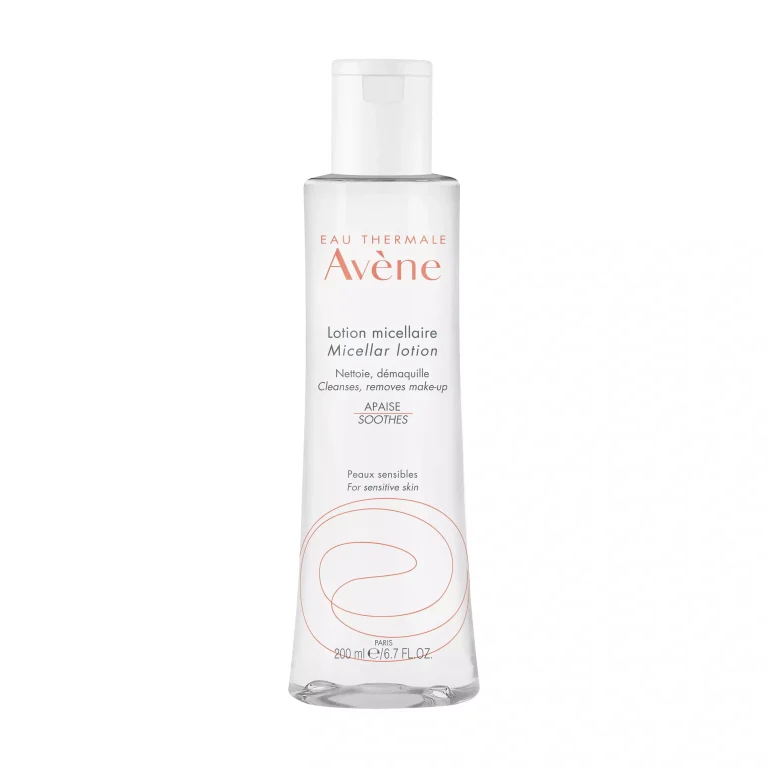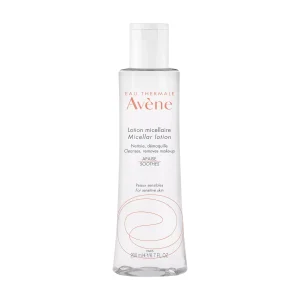 How to use a facial cleanser?
Knowing how to use a facial cleanser is just as important as the product you choose. How you use it depends on the type of cleanser you're using, so be sure to read the instructions on your cleanser before applying it. For general tips on how to use your facial cleanser, check out our step-by-step guide below! 
Step 1. Pull your hair back
If you have long hair, use a hair tie to pull it away from your face while cleansing. This also makes it easier to clean the pores at the hairline, which can get clogged with excess hair product and oil.
Step 2. Wash your hands
Before washing your face, make sure your hands are clean. If you wash your face with dirty hands, the dirt and grime from your hands may end up on your face!
Step 3. Wet your face
Apply warm water to your face before applying your cleanser. This step allows the cleanser to work gently on your skin and spread evenly across your face. 
Step 4. Apply the cleanser to your face
Squeeze your cleanser onto clean hands, then apply it to your face. Be sure to apply the product evenly to your face and don't forget areas like your hairline, jawline, and neck. 
Step 5. Gently massage your face
After applying your cleanser, gently massage your face and neck with your fingers in small circular motions. Depending on the cleanser you use, you may need more time to let the cleanser work its magic! 
Step 6. Rinse off
When you're done cleansing your skin, rinse your face with warm water. Avoid using hot water to rinse your face, as it can irritate your skin and dry it out. 
Step 7. Pat your face dry
Use a soft towel to gently pat your face dry. The skin on your face is delicate, so avoid rubbing or pulling it when removing excess moisture.
Step 8. Continue your skin care routine
Once you have your cleansing routine in place, you can add a few more steps to your routine after washing.
Last Updated on February 16, 2023