Eczema is a skin condition that can pop up anywhere on the body. It results in red, itchy patches which may crack or blister. It's a frustrating condition wherever it occurs, whether on the arms, back, or hands. But eczema can be especially painful and distressing when it appears on the face as it is hard to hide it. To help you put an end to this extremely uncomfortable skin condition, The Dermo Lab has reached out to the dermatologist and cosmetologist Dr. Amira Al Hafni to shed light on the causes of facial eczema and the appropriate treatments.
What are the types and symptoms of eczema on the face?
The types of eczema that are most likely to occur on the face are:
1- Atopic dermatitis, which is most common on the cheeks and chin (especially in infants), around the eyes, eyelids, and lips (in adults).
2- Seborrheic dermatitis, which occurs most often at the hairline, in the eyebrows, around the ears, and on the sides of the nose.
3- Contact dermatitis, which is common around the eyes, on the hairline, neck, and earlobes.
Although they are somewhat different, all types of eczema have similar symptoms, including:
Red patches

Rough or bumpy skin

Itchy skin

Scaling and dry skin

Cracked skin that may bleed
If facial eczema is left untreated, the skin may eventually thicken, discolor, or scar. Various face lotions and creams for eczema can help people manage the signs and symptoms of eczema. Read on!
What are the causes of facial eczema?
According to Dr. Amira Al Hafni, the duration of eczema symptoms depends on the cause of eczema. Once the cause is treated, symptoms take a few days only before they get resolved. It is therefore very important to know the reason behind the eczema flare-up. 
The face is more prone to eczema as the skin there is particularly delicate and therefore more susceptible to irritation. 
Many people can be born with a tendency to eczema. Factors that can trigger facial eczema include:
Sunlight

High temperatures

Asthma or allergies

Pollution 

Stress 

Environmental irritants and allergens such as fragrances and soaps

Age, as facial eczema is more common in babies and young children

Hormonal fluctuations, especially in women
When it comes to facial eczema, be extra careful with anything that comes in contact with your skin, such as face masks, lotions, makeup, toners, cleansers, and other skin care products.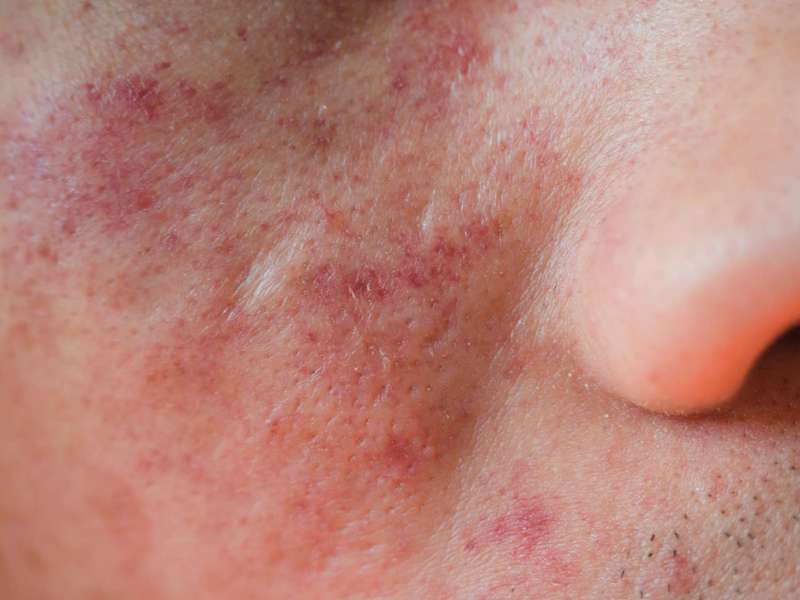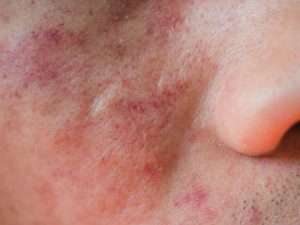 How can face masks cause or aggravate eczema?
Face masks that are too tight or made of a scratchy fabric can cause rubbing on your face and irritation. Some of them can absorb the natural moisture on your face drying out your skin.
When you exhale through a face mask, you direct your own airflow back onto your face. This traps your breath inside the mask and can lead to dry, red and itchy skin.
Since wearing a mask is our new standard and the right thing to do during the COVID-19 pandemic, you must be looking for a face mask for eczema that won't irritate your skin. That's why we recommend you go for a cotton mask or other soft, lightweight fabric. You should also wash your cloth mask regularly.
How to get rid of eczema on the face?
Relieving eczema on the face can be challenging because the skin in this area of the body is very sensitive. If you're a new mom, and your little one has eczema, before treating eczema on your newborn face, make sure to seek the advice of your child's pediatrician, as facial eczema is incredibly common in infants.
Dr. Amira Al Hafni points out that the treatment of eczema on the face differs from the rest of the body because of the difference in skin type in terms of delicacy. 
While there is no cure for eczema, there are many treatment options to make living with this condition easier. That said, Dr. Amira Al Hafni puts forward the following steps:
Know what's triggering your eczema and avoid it completely.

Use the right treatment for eczema.

Follow a skin care routine suitable for eczema on the face.
For eczema on the face, she mentions the following: gently cleanse your skin with a special facial cleanser, moisturize twice a day and avoid wearing makeup.
Let's look at the key aspects of these three steps below:
a- Cleanse gently. Soap can irritate your skin and make eczema worse, but washing with water alone may not be enough. Instead, consider using a gentle, soap-free cleanser. Also, use only warm water on your face, and for as short a time as possible. 
Xeracalm A.D Lipid-Replenishing Cleansing Oil from Eau Thermale Avène is a soap-free facial cleansing oil specially formulated for very dry skin prone to eczema or itching. It gently cleanses, soothes, and softens the face. This cleanser is suitable for sensitive skin and should be used twice a day.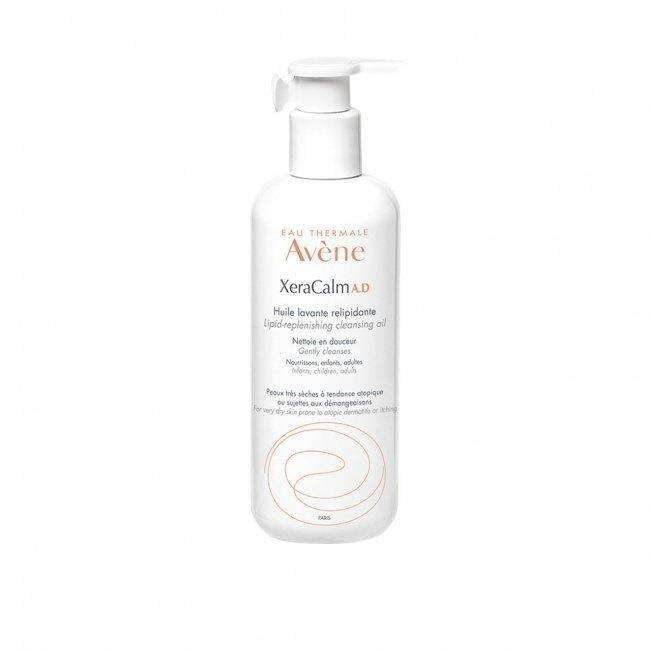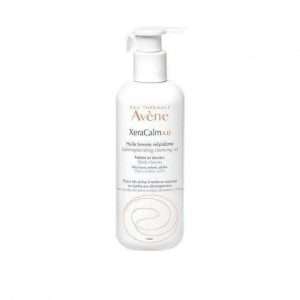 If you are looking for natural elements, we recommend Exomega Control Emollient Shower Oil from A-Derma, the world's leading brand in offering an oat-enriched skin care line. This oat-rich anti-scratch shower oil gently cleanses and moisturizes your skin while soothing irritation. Use it regularly to cleanse your face and reduce eczema symptoms.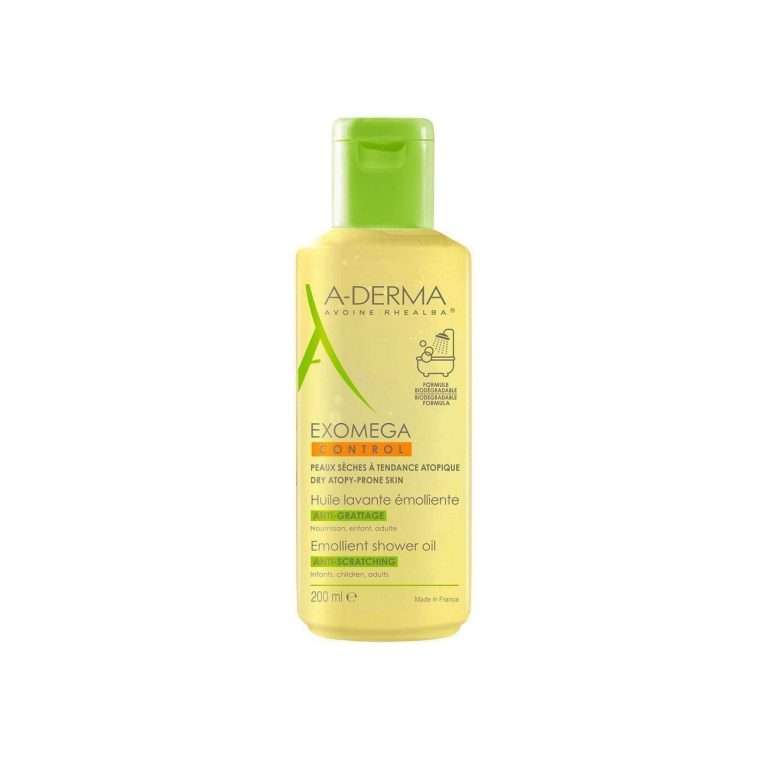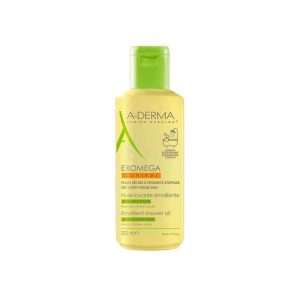 b- Moisturize. If you suffer from facial eczema, it is essential to keep your skin hydrated. The best time to do so is right after washing your face. The most effective way to keep your skin from drying out is to use thick creams for facial eczema. Emollients will provide your skin with the best hydration. Look for products that are fragrance-free and contain nourishing ingredients like ceramides, which are key in the treatment of eczema. Dry skin lacks moisture, and ceramides help retain water in the skin.
Eau Thermale Avene XeraCalm A.D Lipid-Replenishing Cream is a fragrance-free moisturizer rich in cer-omega, a complex of ceramides and omega 6. Besides the importance of ceramides, Dr. Amira Al Hafni asserts that omega compounds are useful in improving the treatment of eczema. We recommend applying this cream twice a day.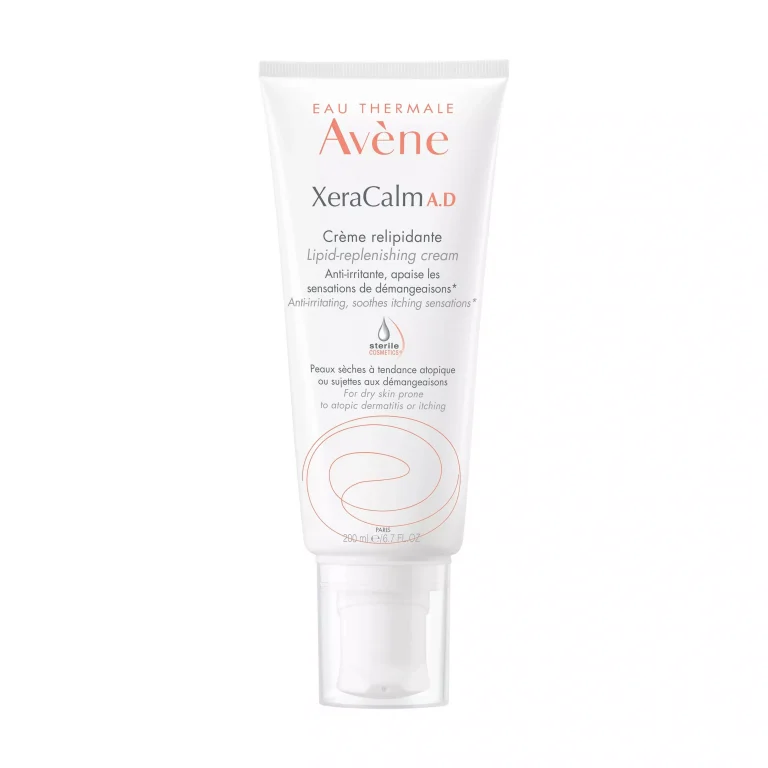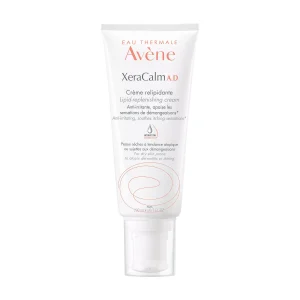 If you're more into natural products, consider A-Derma Exomega Control Emollient Cream, which fights dryness caused by eczema and reduces itching. Thanks to its natural ingredients, including Rhealba® oat plant extract, this cream controls feelings of irritation.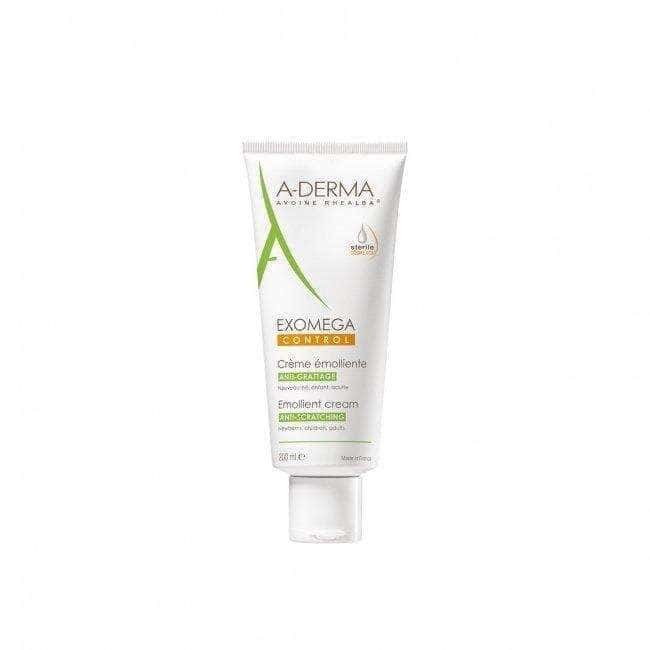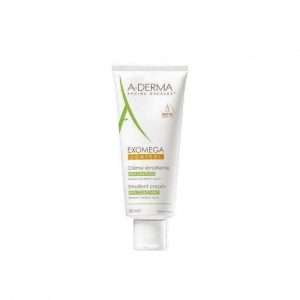 If you have severely dry skin, we recommend that you opt for balms, as they are thicker than creams. A-Derma Exomega Control Emollient Balm maintains moisture for 48 hours. One application per day is all it takes to reduce irritation and itching.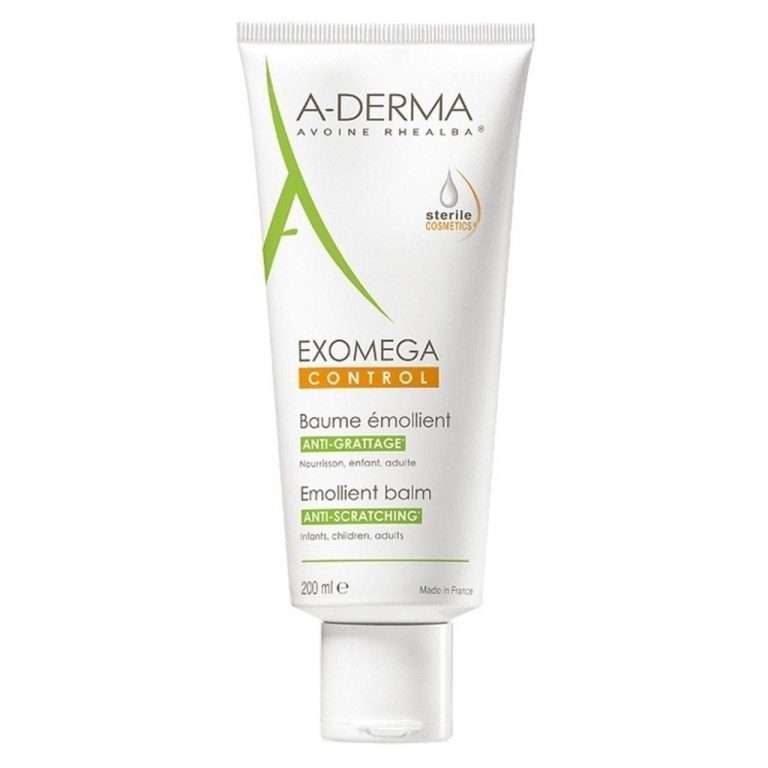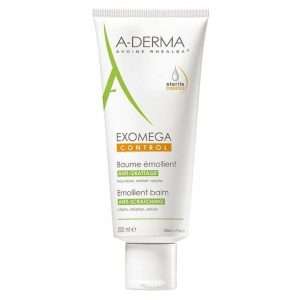 c-  Skip makeup. Do not use cosmetics on irritated skin. If you decide to wear makeup, choose a liquid foundation rather than oil-absorbing powders which can worsen existing dryness.
How to treat eczema lesions on the face?
If you suffer from severe itching that causes eczema lesions and bleeding, we have the perfect solution for you. 
First off, cleanse your skin with Dexyane Ultra-Rich Cleansing Gel from Ducray. This gentle, ultra-rich cleansing gel soothes irritation, reduces itching, and protects your skin from dryness.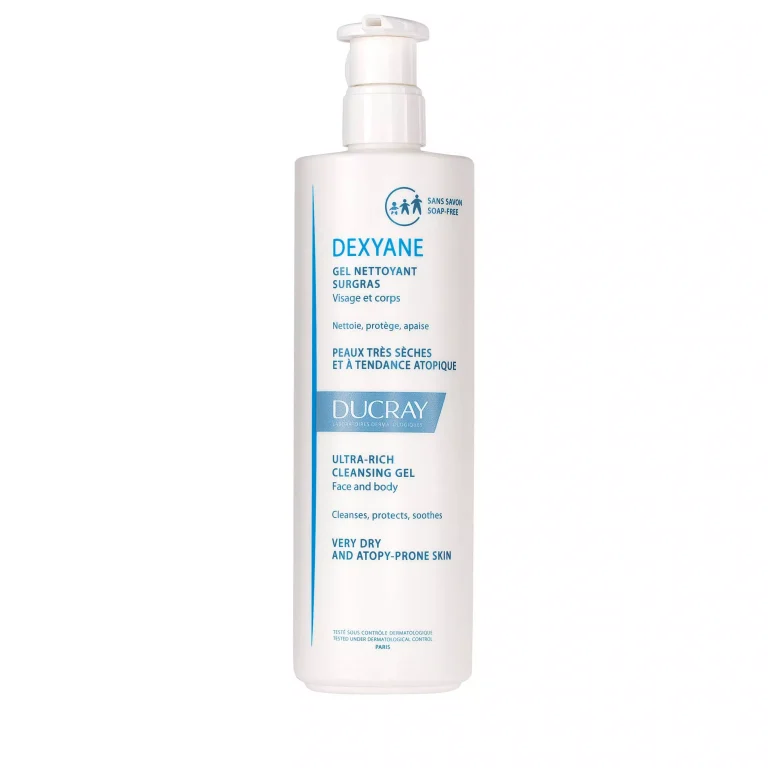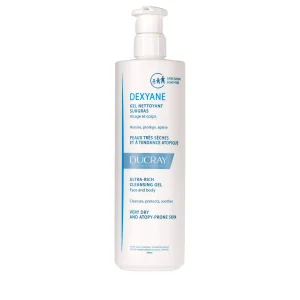 Eczema lesions should be treated with an appropriate cream such as Ducray Dexyane MeD Soothing Repair Cream which treats and promotes the disappearance of eczema lesions. It is very effective in soothing skin irritations and reducing itching.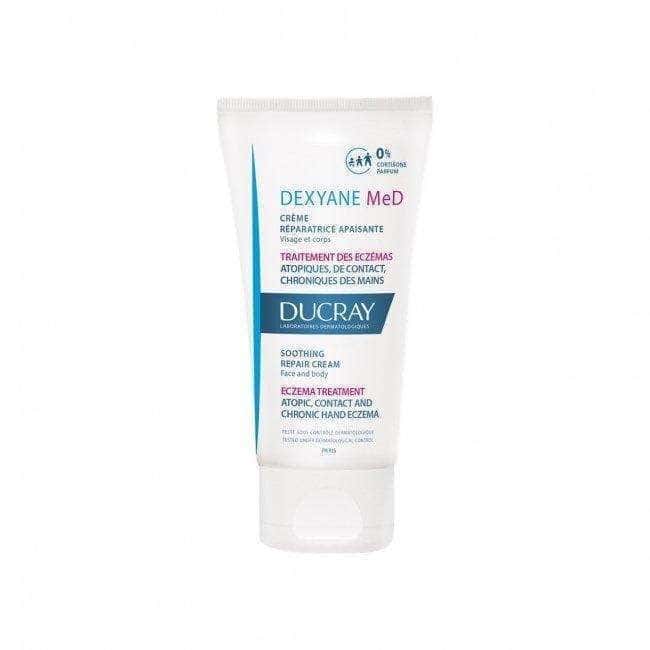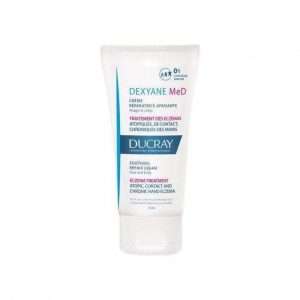 On areas outside the lesions, apply Ducray Dexyane Anti-Scratching Emollient Cream which repairs your damaged skin barrier and reduces irritation. At the same time, this cream provides the perfect balance between hydration and nutrition.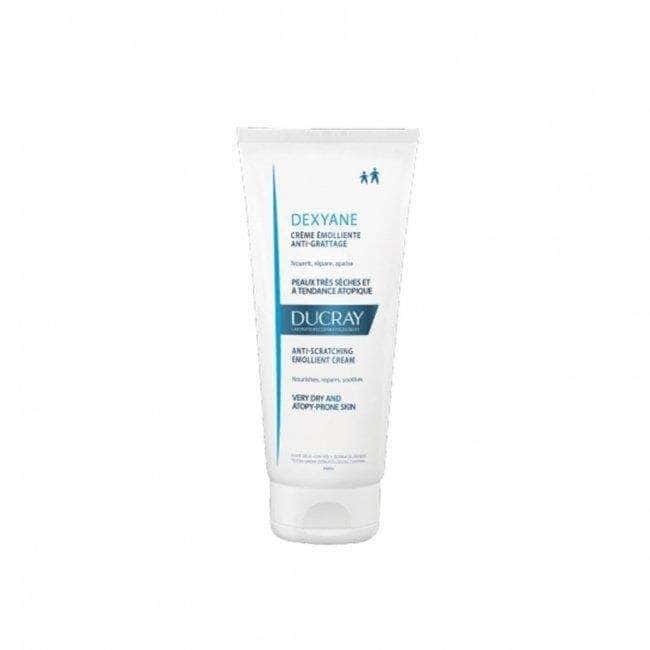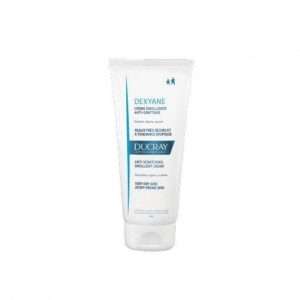 A word from The Dermo Lab
Having eczema on the face can be incredibly frustrating. Because facial eczema is so visible, many people feel less confident during a flare-up. But don't worry about it, following the above steps will ease the burden of this skin condition and prevent your eczema from getting worse. Remember, a good skin care routine and regular moisturizing can keep flare-ups under control.