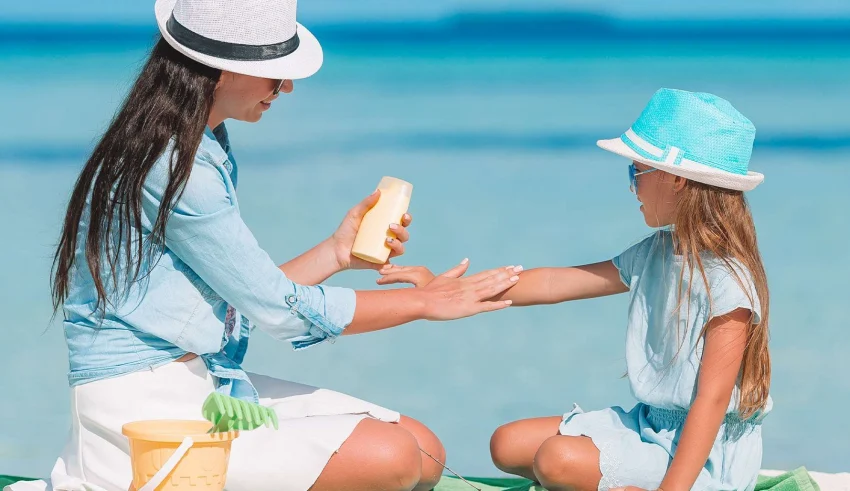 Arguing with your child when trying to apply sunscreen is no fun, but it's essential to protect your little one from the sun's harmful UV rays. Whatever your child's reaction to sunscreen application, with all the lotions, sticks, sprays, and creams labeled "baby" or "child", the hardest part is choosing which one to use. That's why we consulted the dermatologist and cosmetologist Dr. Bothina Ehsan to find out what exactly you should look for when shopping for the best sun protection for babies and children.
How does the sun affect young skin?
The sun, in moderation, is good for your child's health, but overexposure to the sun's rays can cause short- and long-term skin damage. 
Young skin is particularly sensitive to sunlight because it is still developing:
Children's skin is thinner than adults'.
Although it has the same number of layers, children's skin is only one-fifth the thickness of adult skin. The stratum corneum of the skin (the outermost layer of the epidermis) is thinner and its cells are less tightly packed. As a result, its barrier function is less effective, and the sun's rays are absorbed more quickly and in deeper layers. 
Skin pigments are less developed in babies and children.
Melanin is the substance that produces your skin's natural color. When you are exposed to the sun, your cells produce extra melanin to protect you from burning – this is called "tanning". Children have melanocytes (melanin-producing cells) but they are not fully developed, so their skin is less naturally protected from the sun. Children with fair skin, red hair, or freckles are more likely to get sunburned because their skin produces less melanin.
How can we protect our littles ones from the sun?
Sun protection is very important for children. Skin cancer is increasingly common among young people. Thus, protecting your child's skin from too much sun exposure can greatly reduce this risk. Sunburn is a sign of skin damage that you can see, but invisible damage also occurs, in all skin types. 
Everyone knows they're supposed to wear sunscreen every day, all year long. But when it comes to sunscreen for babies, the guidelines aren't as clear. Sunscreen recommendations are different for young and older babies, so consider your baby's age before you start applying sunscreen.
*For newborns and babies under 6 months of age: 
The American Academy of Pediatrics (AAP) recommends keeping babies under 6 months of age away from direct sunlight. To protect your baby from the sun's rays, minimize the need for sunscreen by dressing your baby in long-sleeved, sun-protective clothing and a sun hat. 
However, when shade is not an option, you can apply a minimal amount of baby sunscreen to the face, back of hands, and tops of feet. Apply a thin layer of baby sunscreen for at least 15 to 30 minutes before going outside. You should reapply baby sunscreen every two hours when your baby is outside and immediately after water activities. Dr. Bothina Ehsan recommends using a broad-spectrum SPF 50. If you're wondering when to expose your baby to the sun, she suggests doing so before 10 a.m. and after 4 p.m. to avoid harmful rays.
*For babies 6 months and older:
You can apply a baby-friendly sunscreen with SPF 30-50 to all exposed areas of your little one's body whenever they're spending time in the sun. Spread a good amount of sunscreen, don't skimp – in this case, more is definitely better.
One last thing to note: sunscreen should be used all year round. Even in the winter, the glare from snow and the sun's rays can combine to cause serious burns. Remember, clouds don't block UV rays, they simply filter them out. The bottom line? Sunscreen is a must whenever your baby is outdoors.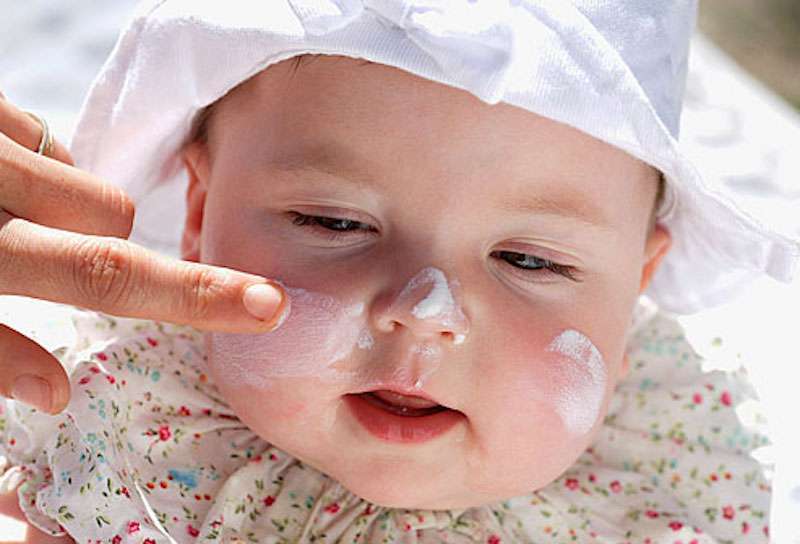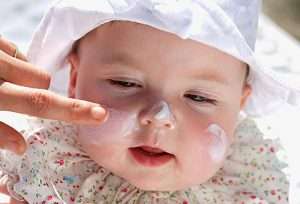 Are baby sunscreens different from the ones we use as adults?
Sunscreens for babies are generally fragrance-free and contain only mineral-blocking ingredients, such as zinc oxide. As per Dr. Bothina Ehsan, zinc oxide is considered safe for this age group. 
A zinc oxide sunscreen is free of irritating chemicals, fragrances, parabens, phthalates, and dyes. It forms a barrier to protect the skin and is highly tolerable for even the most sensitive skin.
Keep reading to find out the best sun protection for babies and children!
How to choose the best sun protection for babies and children?
1- Use a high SPF: A broad-spectrum, water-resistant sunscreen with an SPF of 30 or higher will be the safest choice for your children. According to Dr. Bothina Ehsan, this ensures that your sunscreen protects against both harmful UVA and UVB rays.
2- Choose a mineral product: When it comes to choosing the best sun protection for babies and children, it is recommended to use physical (aka mineral) sunscreens made of titanium dioxide or zinc oxide, which reflect the sun's rays instead of a chemical sunscreen that absorbs them. As mentioned above, these natural sunscreens are often gentler on children's sensitive skin. 
3- Check the sunscreen ingredient label: Make sure to avoid sunscreens that contain fragrances, dyes, or PABA (para-aminobenzoic acid), all of which can irritate babies' sensitive skin.
Now that you know what to look for, find below the best sun protection for children aged 3 and up that meet our dermatologists' criteria. This is the safest sunscreen to protect your child from the sun's harmful UV rays.
Eau Thermale Avène Sunscreen Spray for Children SPF 50+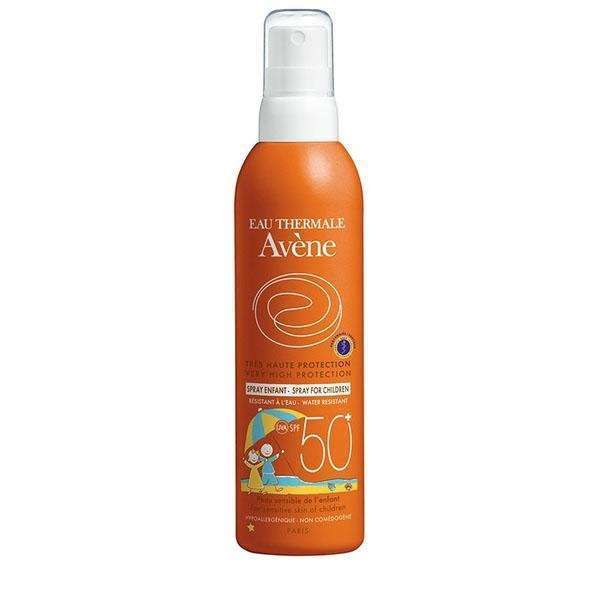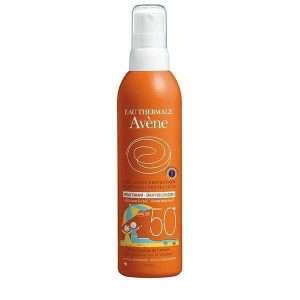 Why we love it:
Eau Thermale Avène Sunscreen Spray for Children SPF 50+ is a water-resistant sunscreen for the face and body that has been formulated without fragrance to respect children's sensitive skin. It contains titanium dioxide and a reduced number of chemical filters, with long-lasting stability and efficacy, providing very high protection against UVB and UVA rays. Its non-greasy texture is quickly absorbed by the skin for a uniform and invisible protection.
This sunscreen benefits from the exclusive SunSitive® Protection formula, the result of Pierre Fabre Group research. Plus, the price of this sun protection cream is very reasonable. Apply generously and evenly to the face and body 20 minutes before sun exposure. Reapply at least every 2 hours, after swimming or sweating.  
Other ways to protect young babies and infants
Babies have delicate skin and are more sensitive to the effects of sun exposure and heat. Planning to spend time outdoors with your baby? Protect him/her from the heat and sun by taking the following steps:
Use baby carriers and strollers with large sunshades. 

Keep your baby indoors during peak sunlight hours whenever possible.

Keep your baby hydrated and avoid overheating. Regular feedings with formula or breast milk should provide enough fluid if you keep your baby cool. 

Keep your baby in a shaded area. 

Remember to put a wide-brimmed hat and sunglasses on your baby to protect him from UVA and UVB rays.
Remember
The sun provides energy for all creatures on earth. However, excessive exposure to its ultraviolet (UV) rays can cause skin damage. One-quarter of our lifetime exposure to the sun occurs during childhood and adolescence. Since children spend a lot of time outdoors, especially in the summer, it is important to protect them from the sun.
Sun protection is essential at every stage of life, including infancy. Always protect your family from the sun, and consult a dermatologist if you have questions about how to take care of your baby's skin.