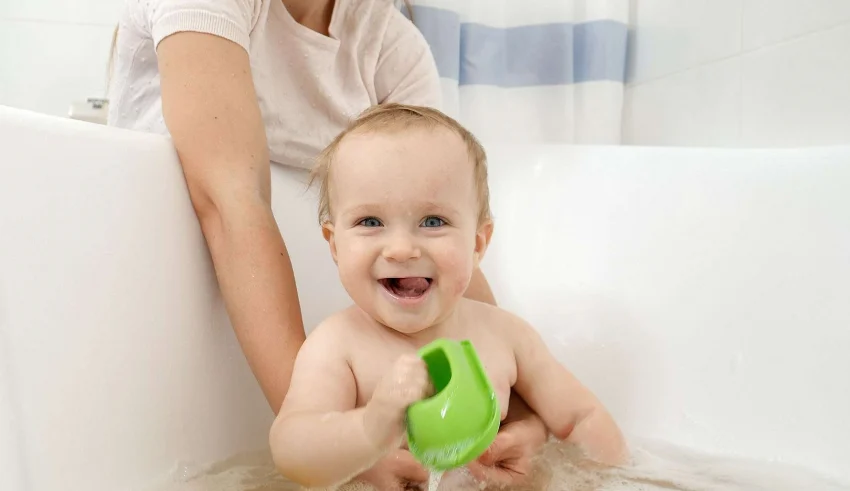 If you're a new mom, bathing your tiny one might seem like a suicide mission often accompanied by worry and self-doubt.
But relax, it's no biggie! With a few simple tips from The Dermo Lab, you'll become the baby bath master in no time. Read on!
How Often Does Your Baby Need a Bath?
As Dr. Samir Hantirah points out, giving your baby a bath two to three times a week is more than enough. However, if your baby enjoys baths, you can always sneak one bath a day, but no more than that! After all, you don't want that delicate skin to dry out.
In this sense, the whole bathing process shouldn't take you more than 10 minutes, especially if your baby's skin is dry or sensitive.
As for your baby's diaper area, you can always clean it with warm water and a cotton towel.
What Time Should You Bathe Your Baby?
Feel free to bathe your baby whenever you want. Pick a time when you're the least busy and make sure you don't shower your baby when he/she is hungry or just got her/his milk, says Dr. Samir Hantirah.
If your baby is a water lover, you can push the bath to bedtime since warm water helps calm your little one before falling asleep.
Where to Bathe Your Baby?
So, you can choose the time that suits you and your baby. As for the place, the kitchen sink is the most common, where usually new moms bathe their newborn in a small tub. After the very few weeks, you can move to a larger plastic tub.
Don't forget to warm up and clean the room where you will bathe your baby!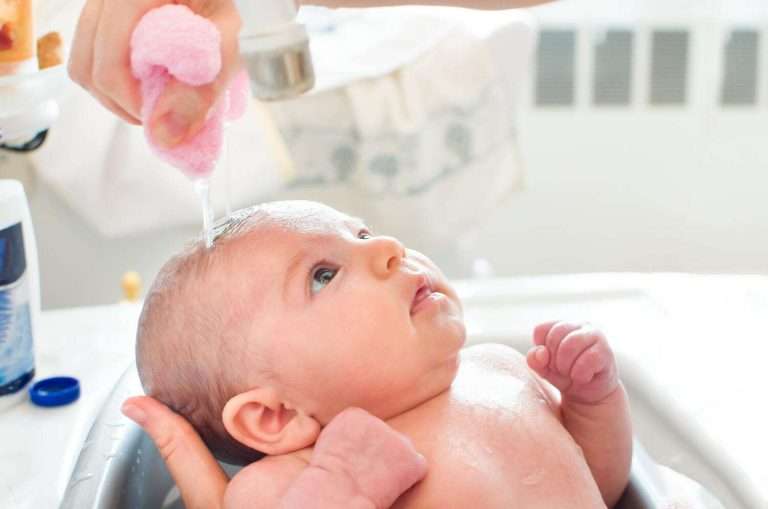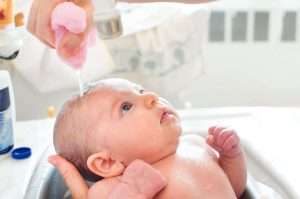 Get Your Baby Bath in order
A few steps can be taken in order to make you feel more comfortable and up to the challenge when it comes to baby bathing:
1- Turn off your phone or put it in silent mode so that nothing distracts you from your baby.
2- Keep the bath supplies near you (towel, lotion, clean clothes …), and avoid using soap because it will dry out your baby's skin, instead, use a soap-free shampoo designed for babies.
3- Place the tub on a flat surface and at a comfortable height, then fill it with approx. 5 cm of water for bathing a newborn. Keep a bowl near you for pouring water over your baby.
4- Wash your hands well and remove any jewels or wristwatch.
5- Check the water temperature, it should be between 37 and 38 degrees. If you don't have a thermometer, you can check its warmth with your elbow to make sure it's not too hot.
Extra Tips
Now, you're on the battlefield on your own, but not to worry, your baby-bathing mission will go smoothly if you follow these steps:
1- Before you undress your baby, gently wipe one eye from the inner corner to the outer corner using a piece of cotton soaked in warm water. Repeat on the other eye, using a different piece of cotton. Then wash your baby's face and avoid the ears and nose.
2- Undress your baby and support his/her head with one hand, and hold him/her with the other one, paying special attention to the neck and head. When you're over the sink, dip your baby's feet first in the water and lay the head slightly while keeping your hand on the back, and making sure your baby is above the water level.
3- Pour water gently over your baby's head and wash it first, then move to other body parts, ending with the diaper area.
4- When you're done, wrap your baby in a towel and pat the skin dry.
5- After bathing come the time to moisturize your baby's skin with a moisturizer, and don't forget about the nappy lotion before dressing.
And that was your step-by-step guide to bathing your baby!
At the end, we recommend you use the following products specially designed for babies to ensure that their skin is well hydrated and clean while maintaining its health and freshness, all from the leading brand Klorane:
– Gentle Cleansing Gel: This body and hair cleanser is designed for babies from birth. Its rich moisturizing ingredients protect your baby's skin against drying, and at the same time provide the highest level of hygiene. Above all, this cleanser from Klorane contains calendula extract which soothes your baby's skin and reduces its irritation.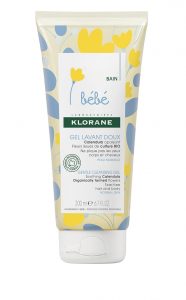 – Moisturizing Cream: After cleansing, comes moisturizing! Hence, opt for this moisturizer with a natural formula that relies mainly on calendula extract and moisturizing ingredients. Use it regularly and notice how soft your baby's skin becomes.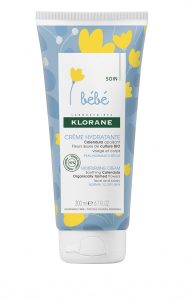 Last Updated on February 13, 2023