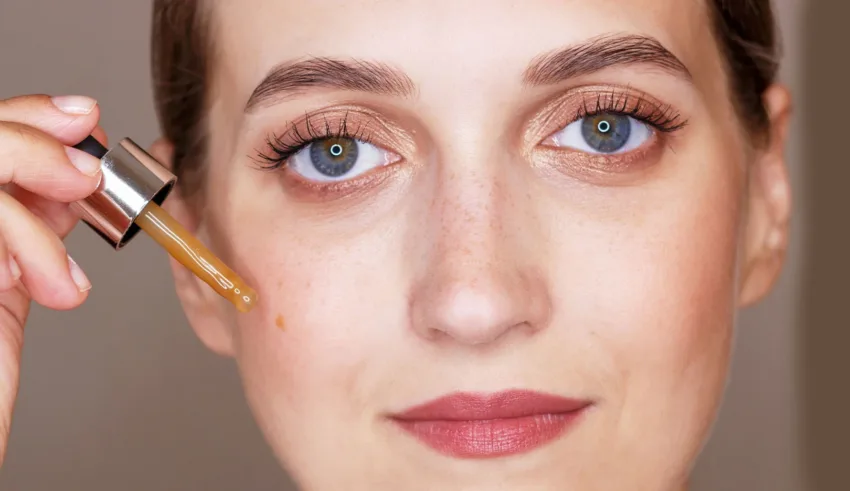 If cleansers, moisturizers, and sunscreens are the meat of skin care, then serums are the spices. They take your routine to the next level with ingredients and formulas that address your concerns, leaving you with flawless, glowing skin. Whether you're looking to treat dryness, dark spots, fine lines, or oily skin, there's a serum that will address all of these issues and more. Here's a noteworthy article on how to choose the best serum for glowing skin, in collaboration with the dermatologist Dr. Tamer Noamany.
What are serums and how do they work?
Facial serums are highly concentrated formulations designed to penetrate quickly and deeply into the skin and address common causes of aging and skin damage. Serums are likely to contain more targeted beneficial ingredients such as collagen, brightening agents, antioxidants, nutrients, and vitamins than moisturizers. They are typically applied to the skin after cleansing and toning.
Because facial serums are slightly viscous (i.e., they have a thinner consistency than creams and lotions), they penetrate the skin quickly, providing beneficial nutrients and hydration at the cellular level. 
If you suffer from photodamage or have sagging or uneven skin, a serum is your best choice to reduce the visible impact on your skin. Serums improve skin's firmness, smoothness, and tone while reducing the appearance of fine lines and wrinkles.
How to use a face serum?
1- Gently cleanse the skin.
Before using the serum, wash your face with a cleanser or a scrub.
2- Pour 2 to 3 drops of serum and apply gently all over your face.
Unlike other skin care products, like thick face creams and moisturizers, which you massage into your skin in an upward direction, serums are meant to be applied to your face in small dabs with your fingertips. Do not rub your skin excessively, let the serum absorb into your skin on its own. 
To apply, take a pea-sized amount (about 3-4 drops) of the serum from the dropper into your palms. Spread it between your palms without rubbing too much. Dab the serum all over your face and neck using light tapping motions.
3- Wait a few minutes for the serum to fully penetrate your skin before continuing your skin care regimen.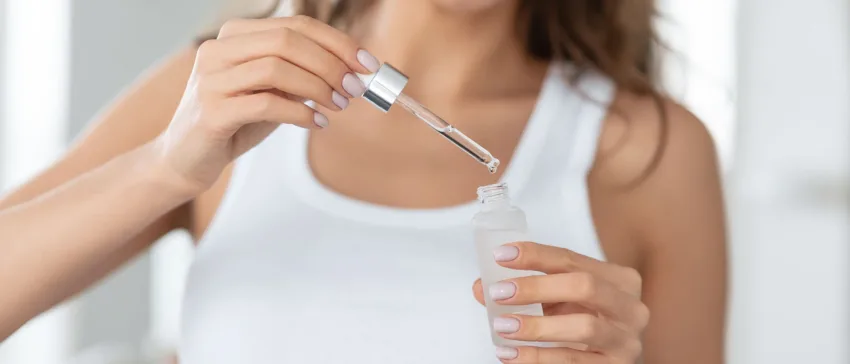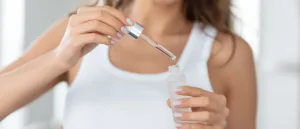 What are the most common ingredients used in face serums?
Here are the most important ingredients you'll find in face serums and the specific beauty benefits of each of them.
1- Hyaluronic acid
As you age, your skin naturally loses its ability to retain moisture. Moisture is necessary to keep your skin looking and feeling supple and youthful. Without it, your skin begins to lose its suppleness and firmness.
Hyaluronic acid is very effective because it can absorb up to 1000 times its weight in water. Because of its absorption capacity, it can attract water and lock in vital moisture. By rehydrating the skin, it smoothes and plumps the surface, while significantly reducing fine lines and wrinkles.
2- Vitamin C
This essential nutrient plays an important role in skin health.
It is a powerful antioxidant that protects the skin from harmful free radicals caused by stress and common environmental factors. It contributes to cell repair, wound healing, fights inflammation, and promotes collagen production. This makes the skin more elastic and resilient and reduces the number of fine lines and wrinkles.
Vitamin C brightens the complexion and reduces the appearance of sun discoloration, acne scars, and age spots.
3- Retinol (vitamin A)
Retinol is one of the most scientifically proven anti-aging ingredients available today. It boosts collagen production, resulting in firmer, plumper skin.
Retinol has exfoliating properties which promote cell renewal and help remove dead skin cells. It is also able to tighten pores and reduce hyperpigmentation by evening out skin tone. This vitamin leaves you with a fresh, vibrant glow and visibly softer, firmer skin.
4- Alpha hydroxy acids (AHA)
AHAs are natural acids derived from fruits such as lemon, grapefruit, and orange. They work in many ways to benefit your skin. 
These acids are chemical exfoliants that keep your complexion clear and glowing by removing the buildup of dead and damaged cells. They also prevent your pores from clogging and help prevent acne breakouts.
5- Vitamin E
This vitamin is another powerful antioxidant that works well in conjunction with vitamin C. This essential nutrient minimizes free radicals and reverses the signs of aging.
According to Dr. Tamer Noamany, make sure not to mix serums containing acidic and non-acidic materials.
What are the benefits of the best serum for glowing skin?
The face serum offers a wonderfully light formulation, which is very easy for the skin to absorb since it is a low-density product.
The face serum will soothe sensitive skin. Even if your skin is probably oily, a face serum will refresh it.
Face serum is rich in collagen to get a rigid texture and removes fine lines and wrinkles, a common aspect of skin maturation.
Protects against pollutants 
Use a face serum to act as a shield and protect your face from the harmful effects of everyday life. It should be packed with active ingredients that protect your skin from oxidation, air pollution, or skin breakdown.
It's light and non-syrupy 
Face serum for glowing skin is a low-density product that moisturizes more than it greases. If you have an oily face or skin type, you can choose the serum that will meet your needs.
A light feeling on your skin 
Since a face serum has a quick absorption power, applying it on the face does not feel heavy.
Here are the best face serums for glowing skin to add to your daily skin care regimen, whether you want to improve skin texture, fade a tan, smooth fine lines, and wrinkles, or brighten your complexion.
Moisturizing and anti-aging serum:
Eau Thermale Avène A-Oxitive Antioxidant Defense Serum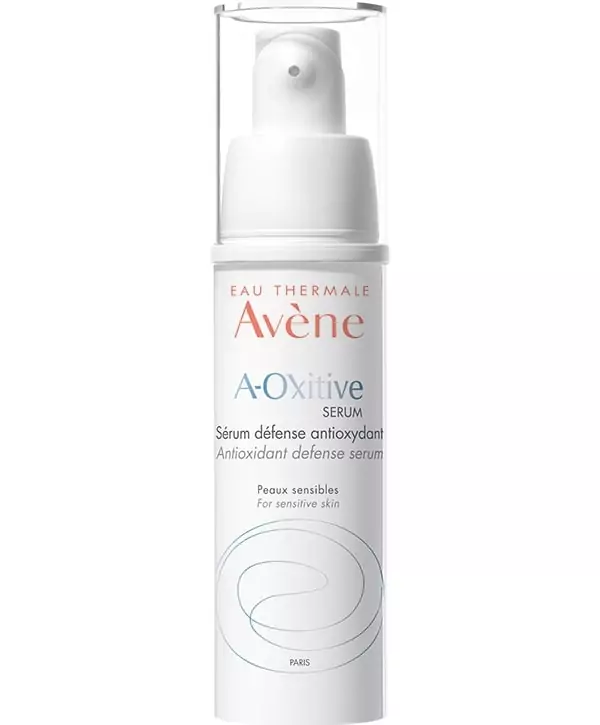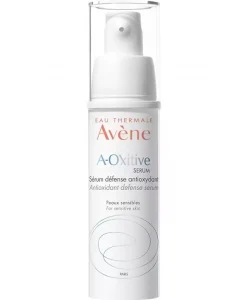 Skin brightening serum:
Ducray Melascreen Photo-Aging Global Serum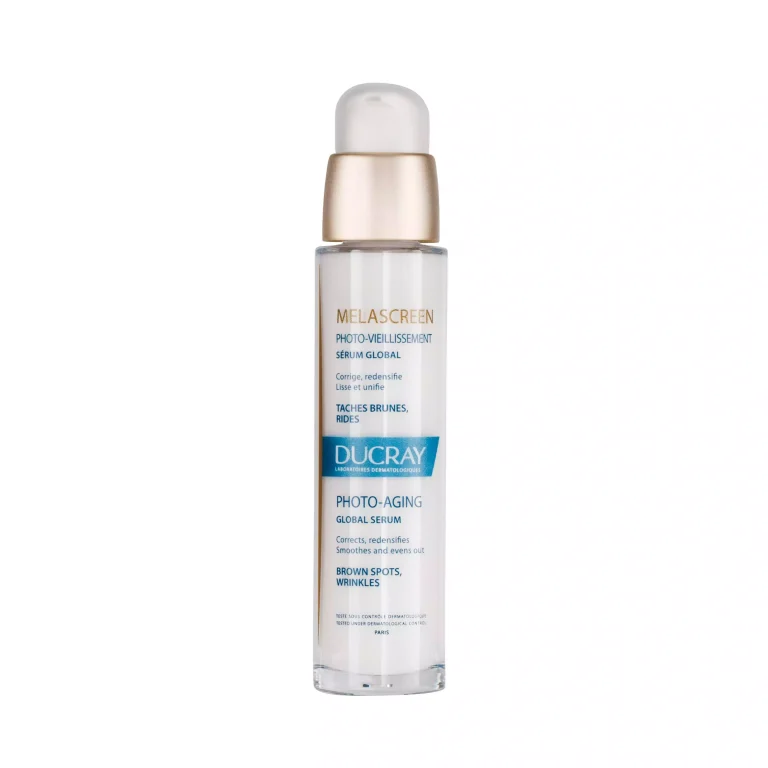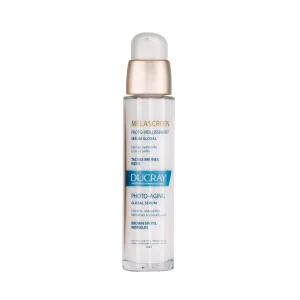 Serum for acne:
Ducray Keracnyl Serum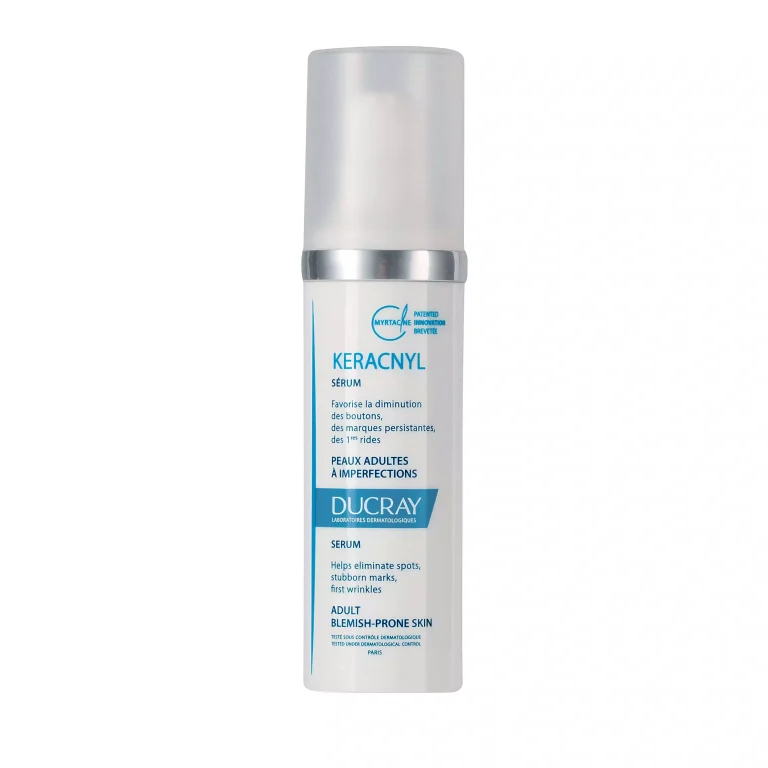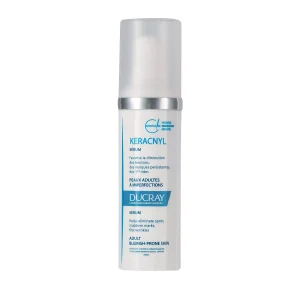 FAQ
What are the disadvantages of facial serum?
Serums can cause side effects, especially if you are using them while on medication or if you have a skin condition. For this reason, watch for any symptoms as soon as you start using the serum. If your skin is dry, itchy, or red, you may need to stop using the serum or see a dermatologist.
How long should you leave the serum on?
Once you have applied your serum with your fingertips, you can wait 5 minutes for it to be absorbed.
When to apply the serum?
A good rule of thumb is to use a serum morning and night as part of your skin care routine. According to Dr. Tamer Noamany, there is no specific age for the serum.
What comes first: serum or moisturizer?
According to Dr. Tamer Noamany, the serum comes first.
This is because the serum is generally lighter, while the moisturizer tends to be thicker. Applying the serum first can also give the skin a better chance to absorb the active ingredients.
Cleansing, toning, and moisturizing are probably already part of your skin care routine. But now that you have a better understanding of how to use facial serums, it's time to get your hands on the best serum for your skin type and begin your journey to healthy, glowing skin.