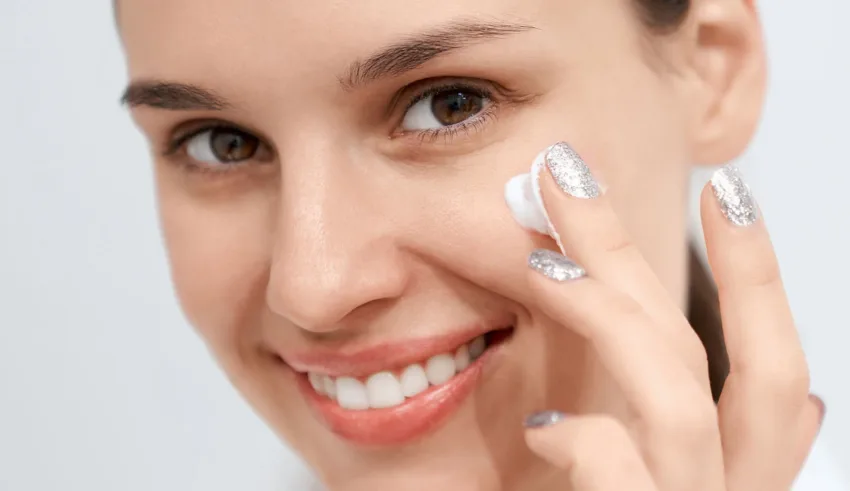 "Buy a moisturizer" – sounds easy enough when you write it down on your to-do list. But all you have to do is wander the skin care aisles to realize that the choices can be confusing. Add to that the fact that you have dry skin, and the confusion only grows. So how do you know which moisturizer is best for your dry skin? Follow renowned dermatologist Dr. Lina Al Kurdi's expert advice on choosing the best face moisturizer for dry skin to give it the healthy glow you're looking for. Read on!
What is dry skin on the face?
According to Dr. Lina Al Kurdi, dry facial skin is when your skin is rough, flaky, or dehydrated. It occurs when your skin does not have enough water or oil. It usually comes from a loss of the fats that keep the skin moist. It can also be due to a lack of natural moisturizing factors, such as lactic acid, sugars, and urea.
What causes dry skin?
Dry skin can occur in the winter when cold, dry weather dries out the skin's natural barrier and prevents it from maintaining moisture. 
Dry skin is also caused by certain medications and products that cause the skin to dry out. 
Age is another factor that affects the skin, with people experiencing more dehydrated skin from the age of 40.
Dry skin is essentially skin with low water content, usually associated with a disruption of the skin barrier. This means loss of moisture, cracks between skin cells, and skin inflammation in severe cases. The dermal layer of the skin can be dried out due to genes, cold, dry climate, excessive cleansing, and even harsh skin care products.
What are the signs and symptoms of dry skin?
Dehydration or loss of moisture from the skin is one of the most obvious signs of dry skin. Signs of dehydration include itching, dryness, and fine lines.

Cracks appear on the skin as it dries and shrinks.

Rough textured skin due to moisture loss and flaking of the skin.

Wrinkled skin with a rough, loose texture can appear with age when loss of natural oils and moisture is common.

Peeling skin occurs when excessively dry skin loses an unusual number of skin cells.

Rashes that look like small red bumps or acne may develop on the skin.

Itching and tightness appear, especially after cleaning the skin with harsh products.
Dr. Lina Al Kurdi affirms that when your skin is hydrated, it is plumper, smoother, more radiant, and has an even skin tone. Keep reading to learn how to take care of extremely dry skin.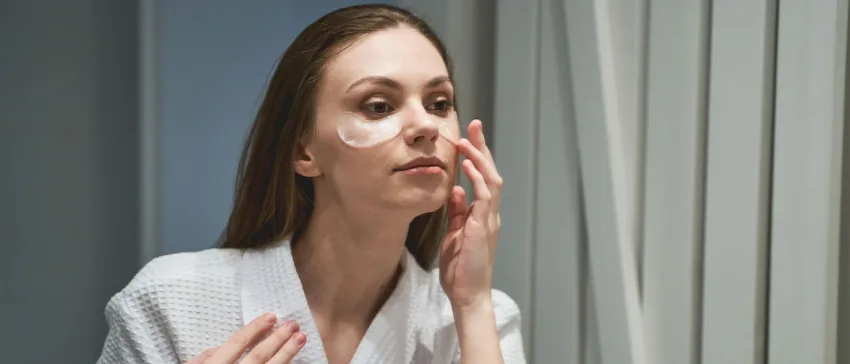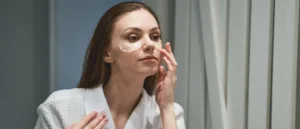 How to treat excessive dry skin?
To help heal dry skin, Dr. Lina Al Kurdi recommends the following:
1- Prevent baths and showers from aggravating dry skin.
Use lukewarm water rather than hot water.

Limit shower or bath time to 5 or 10 minutes.

Wash your skin with a gentle, fragrance-free cleanser.

Gently dry your skin with a towel.
2- Apply moisturizer right after you dry your skin. 
Ointments, creams, and lotions work by locking in existing moisture in your skin. Use an ointment or cream instead of a lotion. Dr. Lina Al Kurdi explains that ointments and creams are more effective and less irritating than lotions. 
3- Use only gentle, fragrance-free skin care products.  
Stop using skin care products that contain any of the following:
Alcohol (except for hand sanitizer)

Alpha hydroxy acid (AHA)

Perfume, including deodorant soap

Retinoids.
Avoiding these products will help your skin maintain its natural oils.
4- Wear gloves when you:
Perform tasks that require you to have wet hands.

Put chemicals, greases, and other substances on your hands.
5- Choose non-irritating clothing and laundry detergent. 
Wear cotton or silk under wool or other clothing that is rough to the touch.

Use a laundry detergent labeled "hypoallergenic".
6- Add moisture to the air.
Plug in a humidifier.
How to choose the best face moisturizer for dry skin?
In addition to being hypoallergenic and fragrance-free, the ideal moisturizer should be able to maintain the skin's barrier function by containing these three elements:
A humectant
Humectants hydrate your skin by:
Drawing water from your second skin layer (dermis) to the top layer (epidermis).

Helping you remove dead skin cells.

Using the water in the moist air to moisturize the epidermis.
Effective humectants include:
Hyaluronic acid

Lactic acid

Urea

Sorbitol
An occlusive
Occlusives work in tandem with humectants. They prevent moisture loss so your skin stays hydrated longer.
Look for ingredients such as:
Dimethicone

Lanolin

Petrolatum
An emollient
Emollients fill in the cracks caused by dryness, smoothing and softening your skin. Emollients can also be occlusives, so kill two birds with one stone by choosing a moisturizer containing:
Mineral oil

Virgin coconut oil

Palm oil
Other beneficial ingredients include:
Ceramides.

Anti-aging ingredients such as vitamin C, retinol, and growth factors (for facial moisturizers).
Dr. Lina Al Kurdi states that there are 3 types of moisturizers:
Ointments contain the highest amount of oil, making them the best choice for extremely dry and cracked skin. Creams contain less oil, while lotions contain more water.
According to Dr. Lina Al Kurdi, it may take some trial and error to find the right product for your current skin type and needs. If you've tried a variety of products and are still not getting the results you want, a dermatologist can offer more personalized advice.
Ointment:

works well for extremely dry skin because its thick, oil-based formulas help retain moisture.

Cream:

can also be suitable for dry, sensitive skin; it's a better alternative if you don't want the greasy feel of most ointments.

Lotion:

suitable for combination or normal skin that doesn't need the oil content of creams or ointments.
Enjoy the following moisturizers that help replenish the skin's barrier to lock in moisture and buff away dead skin cells.
Ducray Ictyane Hydra UV Light Face Cream SPF 30
To be applied only in the morning.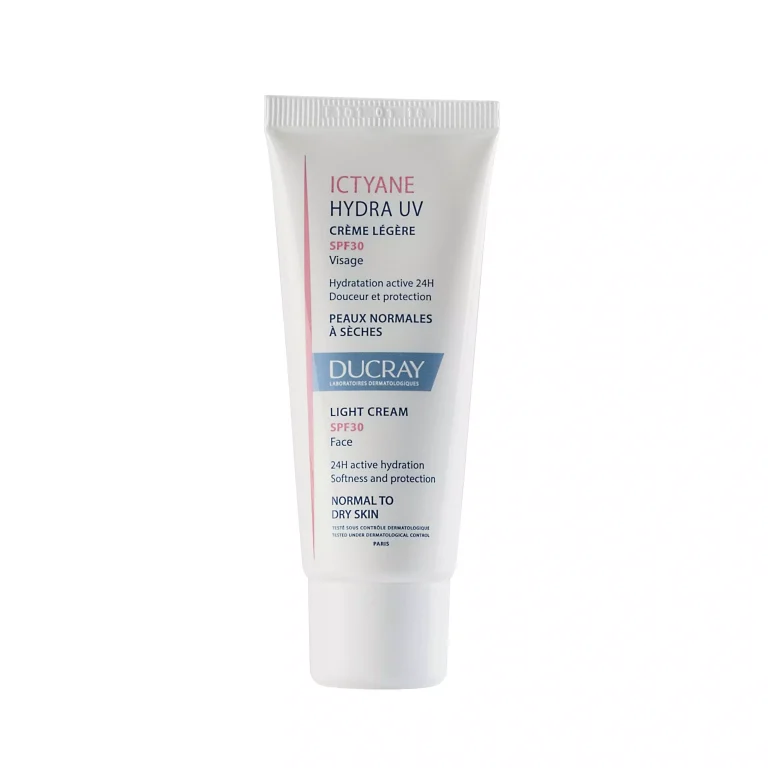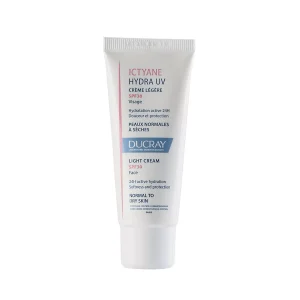 Eau Thermale Avène Hydrance Aqua-Gel
To be applied in the morning and evening.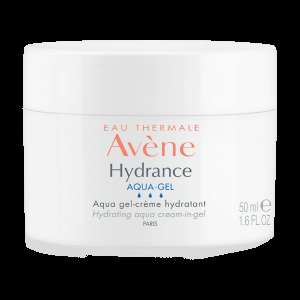 Eau Thermale Avène Hydrance Rich Hydrating Cream
To be applied in the morning and evening.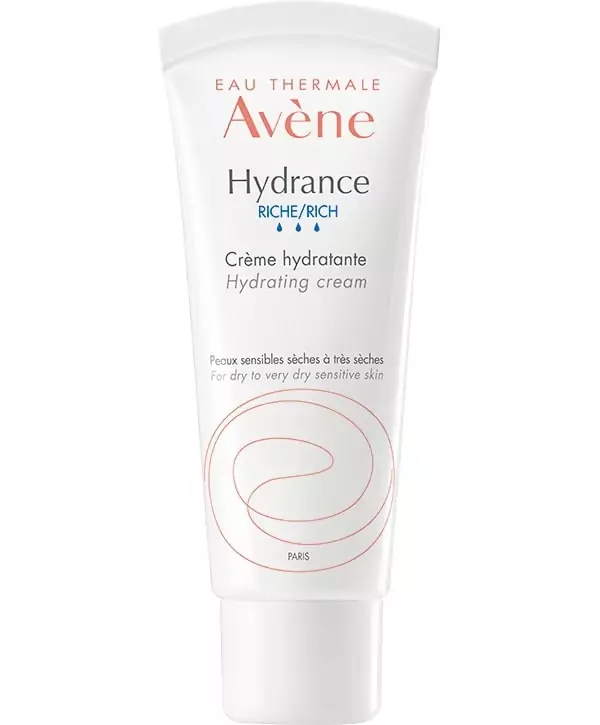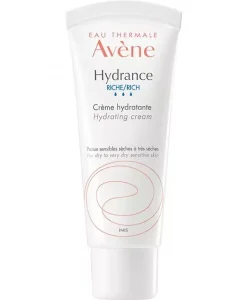 Dr. Lina Al Kurdi warns against using too much moisturizer, which over time makes your skin lazy and causes it to produce less moisture on its own. Excessive moisturizing signals your skin that it has enough water, lipids, and proteins (the building blocks of skin) and can slow down the production of these important skin nutrients. So she recommends applying your moisturizer twice a day, in the morning and at night.
Last Updated on March 15, 2023